This is an archived article and the information in the article may be outdated. Please look at the time stamp on the story to see when it was last updated.
HANOVER COUNTY, Va. — Authorities say that a former Kansas City, Kansas, man and his sister were killed when a fleeing murder suspect crashed into their vehicle at high speed on a Virginia interstate on Friday.
According to the Virginia State Police, 65-year-old Wendell E. Hayman, formerly of Kansas City, Kansas, and his sister, Ethel D. Ellis, 66, of Washington D.C. were killed on I-295 near Mechanicsville, Va., around 3:00 p.m. on Friday when their vehicle was struck by a vehicle driven by 46-year-old Stafford Shaw of Sandston, Va.
Shaw was also killed in the wreck. All three died on the scene, police say.
According to WTVR-TV, Shaw was a suspect in the murders of his estranged girlfriend Morgan Rogers and their one-year-old daughter Leah, who were found dead inside their Virginia home on Friday.
Police say Shaw, who was fleeing police, was traveling northbound on I-295 when he apparently crossed the grassy median at a high-rate of speed and struck the southbound 2004 Chevrolet Malibu driven by Hayman. The Malibu then struck a 2011 Nissan Sentra in the southbound lane. The Sentra was then struck by a 2010 Lincoln MKZ, also traveling in the southbound lanes.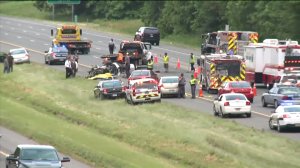 The drivers of the Sentra and Lincoln were transported to area hospitals with what were described as non-life threatening injuries.
WTVR reports that Shaw had a long criminal record dating back to at least 1989.
Shaw was also found not guilty of assault in Henrico, Va. in 2014 and found guilty of three animal-related crimes in Richmond, Va., in 2008, according to online court records.
In 1989, he was acquitted in the murder of his 17-year-old pregnant girlfriend, according to an article in the Richmond Times-Dispatch. Shaw was accused of stuffing Tonette Snead's body in the trunk of her car and then setting it on fire in Richmond's East End.
Shaw, who was 20, wanted Snead to have an abortion, according to court testimony at the time.