This is an archived article and the information in the article may be outdated. Please look at the time stamp on the story to see when it was last updated.
KANSAS CITY, Kan. -- A metro pastor and KCK native has been nominated for a Grammy.
Bishop Cortez Vaughn is in the running for Best Gospel Performance and Song for "You Deserve It."
"The song was recorded on another gentleman's record, named J.J. Hairston and Youthful Praise, his group," he said. "So he called me and said, 'Hey man, are you sitting down?' And I'm like, 'Yeah, for what?' And he's like, 'You've been nominated for a Grammy.' I said, 'Man get out of here,'" the proud Wyandotte County native said.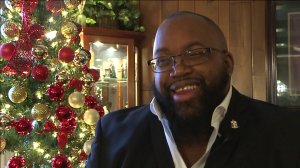 He's also nominated for a Grammy for Best Performance and Song of the Year for "You Deserve It."
He found out about it three weeks ago but said it didn't kick in until he got his official email from the Grammys.
"I kind of teared up, and it was just an amazing feeling," Vaughn said. "This is something my grandfather prayed for years ago. He passed in 2003, so part of it was just wishing he could have been here to experience everything. It`s been a great year. It`s been a great 2017."
"You Deserve It" has more than 40-million views on YouTube. It spent 18 weeks in the No. 1 spot on the Hot Gospel Songs chart and 21 weeks at No. 1 on Billboard's Gospel Digital Song Sales chart.
"Just to be amongst the number of nominees -- people I've looked up to for years that have won Grammys -- so it's just great to be in great Company," Vaughn said.
The song even helped the 39-year-old land a record deal.
"I always wanted to be the best I could be at what I do," Vaughn said. "It's just great that the hard work I've put in -- be it church, be it the community for the last 20 years -- it's now hit a place where it can be recognized."
Besides topping the charts in the gospel world, Vaughn is the provincial bishop for the North Central Province of Global United Fellowship and the senior pastor of Faith City Church in KCK among other things.
"What I do during the day when I'm home is I`m at Northwest Middle School, in Wyandotte County, Kansas City, Kansas, and that's what I enjoy doing," he said. "I'm the assistant basketball coach, assistant football coach, so I enjoy giving back to the community that gave so much to me."
The Grammys will be held on Jan. 28, 2018, and Vaughn already has his ticket booked.