This is an archived article and the information in the article may be outdated. Please look at the time stamp on the story to see when it was last updated.
KANSAS CITY, Kan. -- Police were on the scene of a car crash, after a police pursuit ensued.
Around 9:00 p.m. on Tuesday a red jeep, reportedly taken in an armed carjacking a few days ago in the 1500 block of N. 78th Place, was spotted by officers after the owners of the vehicle saw a person driving it.
Police attempted to pull the vehicle over and a pursuit began. The driver attempted to run out of the vehicle, leaving it in drive, near north 58th and Georgia Avenue in KCK, causing it to roll into a police car causing minor damage.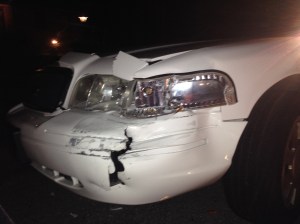 Officers were able to catch the driver, who is now in police custody.
A second suspect, who was in the vehicle fled the scene through neighborhoods, but canines at the scene couldn't track him and officers were unable to detain that person.
Anyone with information in this case is asked to call the TIPS Hotline at (816) 474-TIPS.