This is an archived article and the information in the article may be outdated. Please look at the time stamp on the story to see when it was last updated.
KANSAS CITY, Kan. -- Police are looking for a white Chevy Malibu that they believe was involved in a shooting on Friday that caused a car full of young women to speed away from the gunfire, crashing their car and killing a 17-year-old passenger.
They say the driver of the white Chevy Malibu is a black male, who had gold teeth and braids. They believe he or someone in his car opened fire a few blocks from where the young women crashed.
Help us locate a white Chevy Malibu in relation to the Homicide investigation at 27th and Wood. blk male driver w/braids and gold teeth.

— KCKPD (@KCKPDHQ) May 12, 2015
On Monday night, a prayer vigil for a KCK teenager killed in a car crash was cut short  when someone in the crowd got word that potential suspects in the crime might be in the area. More than 100 people showed up to the vigil at the crash site to remember 17-year-old Brayona Hullum. Two of her sisters and a cousin were seriously hurt in the crash.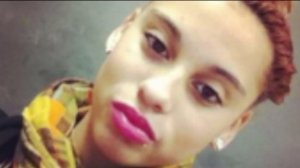 Police are now investigating the crash as a homicide. Captain Victor Webb with KCKPD told the crowd he believes someone at the vigil knows something about the deadly crash, and asked tipsters to come forward with information rather than seeking revenge by taking matters into their own hands.
But Capt. Webb's request for help and a larger message of anti-violence were interrupted when Brayona's aunt, Rochelle Osborn, began shouting to her children to leave the vigil immediately. Soon, word that suspects in the deadly crash might be nearby spread and everyone scattered.
"Everybody took off and everybody left, jumped in cars and took off," said Laurie Ordonez, one of Brayona's classmates attending the vigil.
"In my head, I'm thinking, 'why would you do this?'" she said. "We want to come here, lay flowers for her, show her that we care, show her respect, and we can't even do that in peace? It's really messed up."
Police said people panicked and took off, sending officers to canvass the area, but there were never any confirmed sightings of the assumed suspects.
"There hasn't been any violence, there hasn't been any shooting," said Capt. Webb shortly after people ran off. "Everybody appears to have dispersed in an orderly, quick manner. I think with the heightened tension and nervousness, people exercised caution and said, 'Let's leave.'"
Just minutes before, FOX 4 talked with Osborn, whose daughter was critically hurt in the same crash.
"It's overwhelming," Osborn said, "all these kids that are here and show the love and support of Brayona. We appreciate everybody."
Osborn also reiterated the words of many at the vigil, who pleaded for the violence in their KCK neighborhood to come to an end.
"We need the violence to stop," she said. "It's too much, every day, every day you turn on the news, and I'm looking at you guys reporting something like this. It's tragic. It's crazy. It's nonsense."
If you know anything about this case, call CrimeStoppers at (816) 474-TIPS.