This is an archived article and the information in the article may be outdated. Please look at the time stamp on the story to see when it was last updated.
KANSAS CITY, Kan. - "There's no words for saying how proud I am every day for what he's done.  He's -- I am so proud of him," said Beverly Brown.
Brown tears up talking about her son's choice to join the U.S. Army, although she admits it's stressful.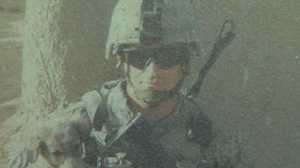 "I try not to think too much about it.  I mean I wouldn't get any sleep if I did," she said.
Twenty-four-year-old Jason Brown was in his second deployment to Afghanistan.  The first time, he had a few close calls.  This time he was injured in a suicide bomb attack.
Also in the attack she says was 23-year-old Justin Sisson, who was killed.  She says she knows she's lucky Jason survived.
"It could have been him, so easy," she said tearfully.
Jason has a piece of shrapnel in his back and is expected to make a full recovery.  She's thankful he'll be O.K., but Beverly is heartbroken for Sisson's family.
"I feel for that family because he was younger than my son, and I'd hate to be in their shoes right now," she said.
Beverly says she continues to pray for the men and women fighting overseas.
"I pray for them, that they'll all come back," Beverly explained.
Jason Brown is in Walter Reed Medical Center waiting for surgery.  His mother says she doesn't believe he'll be going back to Afghanistan.