This is an archived article and the information in the article may be outdated. Please look at the time stamp on the story to see when it was last updated.
KANSAS CITY, Kan. — A metro family is struggling with the sudden loss of a beloved grandmother, but they are relieved to hear the man accused of killing her is now behind bars.
David Colvin, 45, was charged with involuntary manslaughter by the Wyandotte County District Attorney's Office Monday.
Colvin's arrest comes more than three months after investigators said he ran a red light and crashed into Janet Eimer's car, killing her.
"She was kind of like another mom, she really was," said Eimer's nephew, Patrick Quinn.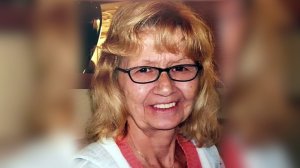 Quinn said 66-year-old Eimer was a selfless animal lover and a self-described bingo queen – someone who lived a full life focused on her family and friends.
"A ray of sunshine, she always was happy," said Quinn. "She was always in a good mood. I mean, she`d do anything for anybody."
Eimer's friends echoed those praises, saying they could always count on her to make them smile.
"Her personality, her friendship," is what Eimer's next door neighbor, Albert Arriaga, said he will miss the most. "She was a nice person."
Both Quinn and Arriaga said it helps to share happier memories, as they believe Eimer was taken too soon.
"We were just cheated," Quinn said. "She was cheated. Her grandson was cheated. Her kids were cheated. All of us were…"
Police said Eimer died following a wreck at the intersection near Kansas Avenue and the 18th Street Expressway in KCK back on August 16th.
Investigators said a highway patrolman tried to stop Colvin for a traffic violation but said he refused to pull over and ran a red light – crashing into Eimer's car and killing her.
"It was like a ton of bricks," Quinn said of learning his aunt was dead. "You don`t expect something like that to happen."
Added Arriaga, "When people are out there driving like that, I mean, to have no respect for other people… And here we are, just driving and one day you`re here, one day you`re gone."
Although police arrested Colvin right after the crash, it was on an unrelated aggravated assault charge. It's unclear why it took more than three months later to file involuntary manslaughter charges in Eimer's death.
"It`s just hard when a good person like that gets taken from you," Quinn said, "who tries to do right every day of her life."
Still, Quinn believes the arrest now brings his family one step closer to getting justice for Eimer.
"I`m just glad to see that that man is where he belongs," Quinn said, "and I hope he stays there for a long, long time."
Colvin remained in the Wyandotte County jail Monday night under a $200,000 bond. His family declined to comment when FOX 4 stopped by that afternoon.