This is an archived article and the information in the article may be outdated. Please look at the time stamp on the story to see when it was last updated.
KANSAS CITY, Mo. — Flying can be stressful enough when you travel, but passengers flying out of metro airports can rest a little safer knowing fire fighters are prepared.
The Kansas City Fire Department Aircraft Rescue and Fire Fighting unit are training from April 16-26 for a number of aircraft disasters.
They use a number of techniques on a prop plane that they can attack with fire-fighting and combat tactics.
"They need to be able to put the fires out quick. Response time is everything. If an aircraft is sitting in a pool of burning fuel, you've got 60 to 90 seconds to get it out before it burns through the outer wall of the plane and into the people inside," Battalion Chief Matt Mauer said.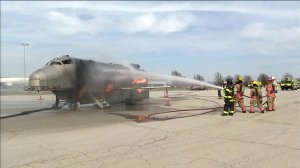 After an engine failure on a Southwest flight on April 17, Mauer said although it's rare, it's good to be ready.
"If that was to happen here, we want to be ready. We have an airport emergency plan. We have to train on all portions of that. We've got to have all our men and women here at ARFF (Aircraft Rescue and Fire Fighting) to be ready to attack that sort of deal," Mauer said.
About 100 firefighters will go through this 10-day training to learn skills Mauer hopes they never have to use.
"It's precautionary. We're ready when we have a problem. It doesn't mean we're going to have a problem, but you'd like us to be ready," Mauer said.
Mauer said fighting a plane fire is different than a house fire. With a plane, you have to make sure the outside is under control first to bring passengers to a safe spot after you are able to get inside.