This is an archived article and the information in the article may be outdated. Please look at the time stamp on the story to see when it was last updated.
KANSAS CITY, Mo. — Days after a man was found dead in his ex-girlfriend's back yard, police have released the picture of a man they are calling a person of interest.
Police are asking for the public's help in locating Jermaine A. Lane. His last known address was in the 7000 block of Jackson Ave.
On Wednesday, Jan. 29, police were called to a home near 70th and Jackson after a woman returned home from work around 7 a.m. and found the body of her ex-boyfriend in her back yard by her back door. The victim was identified as Rondell E. Robinson, 41. The woman told police he did not live at the home and that the two had broken up a year before.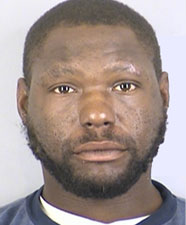 Police said Robinson appeared to have injuries consistent with a physical fight, leading investigators to believe he was the victim of a homicide. When his body was discovered, he was not properly dressed for winter weather.
Police are asking anyone with information on Lane, who is considered a person of interest in Robinson's death, to call the TIPS Hotline at 816.474.TIPS(8477).
Download the fox4kc app to stay informed FOX 4 Android app | FOX 4 iPhone app
Watch our earlier coverage: