This is an archived article and the information in the article may be outdated. Please look at the time stamp on the story to see when it was last updated.
KANSAS CITY, Mo. -- An ATA bus driver is recovering at home after being stabbed and assaulted by some unruly riders at 31st and Askew around 9:15 on July 13th. Now the police are looking for both of the pictured suspects.
The driver asked the suspects to vacate the bus after cursing and refusing to pay their fare. They in turn punched and stabbed the 52-year-old man multiple times.
In 2012 there were two assaults on bus drivers where the suspects were captured.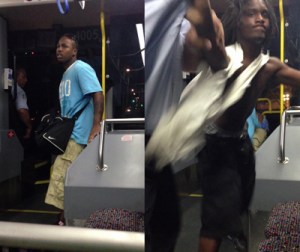 Walter Randle was arrested in Nov. 2012 after assaulting a bus driver who refused to let Randle use another rider's fare. Teenager Michael Cubie was arrested earlier in October after he was identified in surveillance video punching an ATA driver in the head.
Anyone with information about the most recent assault is urged to call the TIPS Hotline at (816) 474-8477