This is an archived article and the information in the article may be outdated. Please look at the time stamp on the story to see when it was last updated.
KANSAS CITY, Mo. -- Kansas City police expressed concern Thursday that a murder case from November 2017 will soon go cold if they don't receive any more leads.
John C. Jones, 34, was shot near Friday, Nov. 1 around 5 p.m. Police say after he was shot, Jones tried to drive away but crashed his car nearby at 16th and Lister.
Officers who responded to the scene found Jones dead from a gunshot wound inside his overturned vehicle
Witnesses told police they saw at least one black male flee the scene. That mystery man hopped in a black vehicle and took off.
"It makes it extremely difficult to solve a homicide when there is no one coming forward and no tips," KCPD Sgt. Martin Cobbinah  said. "It makes it extremely difficult. The best way to solve these kinds of homicides is to have the community participate in the investigation from start to finish all the way through the process."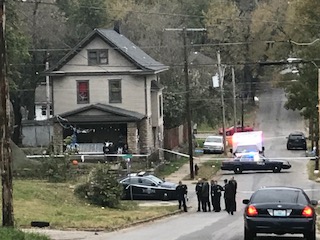 Police want to talk to that person. They believe he could help fill in some blanks about what happened and help bring closure to Jones' family.
"The old saying that a mother should never bury their child, the child should bury the parent," his mother,Annetta Authorlee, told FOX4. "I believe in that saying because I'm going through it now I'm having a hard time dealing with this. I'm having a very hard time dealing with this. Even though he was 34, he was still my baby."
Jones was a husband, father and grandfather.
If you know anything about what happened to Jones, police ask that you call the TIPS Hotline at (816) 474-TIPS.