This is an archived article and the information in the article may be outdated. Please look at the time stamp on the story to see when it was last updated.
KEARNEY, Mo. — Friday night football wouldn't be the same without great marching bands.
This year's edition of the Highway 92 Showdown pits Platte County against Kearney High, and the Bulldog band features a French horn player who says he's enjoying a second chance to live.
Not a single note is taken for granted when Kearney junior Brendan Elam plays his shiny brass horn. He said every day is precious.
"That's the actual liver scar right there," the slender 16-year old said, lifting his shirt to display a scar that covers most of his torso.
That scar, according to Elam, is a reminder of the battle he's winning. Elam said he was born with Alpha One, which is also known as Alpha One antitrypsin deficiency, a genetic disorder that caused his liver to work inefficiently. Elam said at times, the abdominal pain was unbearable.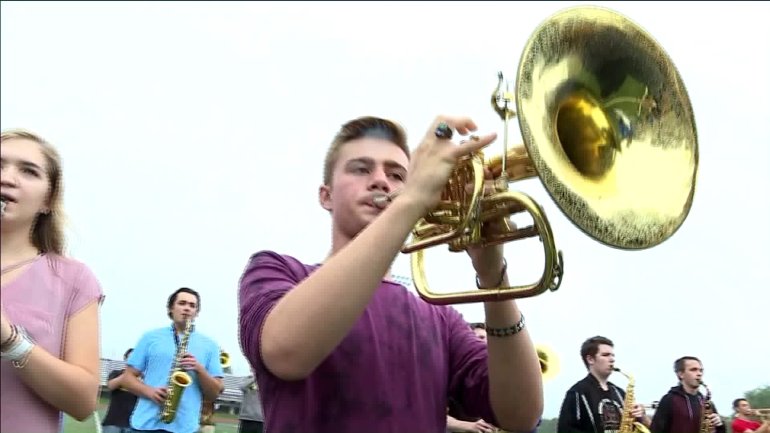 In 2012, three days before Christmas, Elam had a successful liver transplant at Children's Mercy Hospital in Kansas City.
"I was always sick," a now-healthy Elam said. "I would end up in the hospital maybe six or seven times every winter."
"By the time they took his liver out, it looked like cooked ground beef," said Stacy Elam, Brendan's mother. "By the time he was transplanted, he was pretty sick. He was having regular episodes where he had infections in his belly. Ascites infections. Just fluid getting in there and getting infected. He was in the hospital a lot."
Elam said his donated liver came from a donor family in Texas. The Elams said they've written letters of appreciation to that family, but so far, they haven't replied. The Elams say they can't imagine the pain that family must feel, having lost a loved one.
Brendan said he was on the donor list for only nine months, which is a short time compared to the long wait others experience.
Now, six years later, Brendan is better. He's a key part of the school's marching band, playing his French horn with deft skill, and he loves to run as a member of the Kearney cross country team.
The Elams are a family of musicians, and Brendan said he dreams of following in his parents' footsteps, both of whom are music teachers. None of it would be possible without the liver transplant.
Stacy Elam told FOX4 doctors feared Brendan's condition might result in his death in a year, but the new liver led to his restored health. The organ transplant center at Children's Mercy Hospital now bears Brendan's name.
"It's awesome that he came back and he's playing in the band and stuff and being a regular kid. You wouldn't even be able to tell he had the surgery," said A.J. Walker, Elam's fellow Kearney marching band musician.
"Sometimes, whenever I look back on old pictures, I'm amazed. In cross country races, I use that as motivation to keep on going. I'm like, 'I had this other chance. Just keep on going. Let's go,'" Elam said.
The Elams said they were regulars at the Kansas City Ronald McDonald House when Brendan was ill and later recovering from his transplant surgery. That nonprofit is the beneficiary of the fundraising arm of the Highway 92 Showdown, which collects donations for worth civic groups every time Platte County and Kearney meet up on the football field.