This is an archived article and the information in the article may be outdated. Please look at the time stamp on the story to see when it was last updated.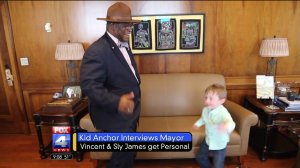 KANSAS CITY, Mo. -- He's counting down the years before he kicks FOX 4's Mark Alford out of the anchor chair. In the meantime, kid news anchor Vincent Savage is honing his journalism skills  with the help of his parents, Mike and Chantal Savage. His most recent undertaking took him to Kansas City Mayor Sly James. He snagged an exclusive interview and asked him to explain to kids what his job really means.
"My job is to be one of the people who talks about the city and talk about how great it is to live in Kansas City," Mayor James said.
Savage, ever curious with follow up questions, asked the mayor what he wanted to be when he grew up.
"I grew up at one point and time, Vincent, thinking I wanted to be a football player," James said. "Then around high school I decided I wanted to be a lawyer, and that's what I became."
Mayor James then turned the questions around and asked Savage what he wanted to be, which turned out to be a director of movies.
"When you make your first movie, I want free tickets," James said.
By the end of the interview, it looked like Mayor James and Savage could discuss any matter at the dinner table: politics, movies, music.
Savage even asked the mayor if he would consider making Pharrel Williams' song "Happy" Kansas City's official song.
Mayor James said he would bring it up in his next meeting.