This is an archived article and the information in the article may be outdated. Please look at the time stamp on the story to see when it was last updated.
KANSAS CITY, Mo - A strangle smell people in a Kansas City neighborhood thought was a dead animal actually turned out to be a decomposing body.
A group of teens were snake hunting in the woods.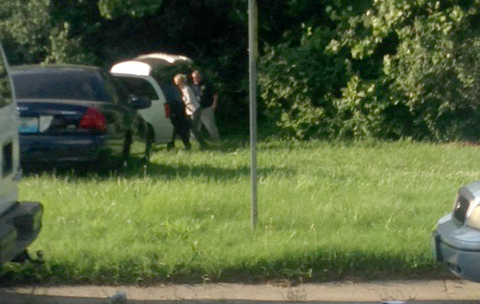 They got about 20 feet in to find what they thought to be human remains. They called 911 only to find they were right.
"Kind of creepy, kind of eery," Clifford Jackson said.
It's the only way he could describe what he felt as he watched a crime scene develop a few feet from his front yard and a body be pulled from the woods he's lived near for 10 years.
Police say it a started when a 20, 18 and 16-year-old went on a hunt for snakes.
"They wanted to find rattlers according to what they told us," KCPD officer David Davis said.
But a few feet into the woods, they found something much more. A badly decomposing body.
So bad, they couldn't even tell if it was human.
"They called 911," Officer Davis said.
Meanwhile, Jackson was washing his car in the driveway when he noticed three people run out of the woods.
"Kind of shocked, kind of jumpy," Jackson recalled.
Soon after, he saw police pulling up a few feet away, walking into the woods.
"I did ask if there had been a body found and police did confirm there was," Jackson said.
With that, another eerie discovery. Neighbors say they'd been smelling a strange scene for the past couple of months.
"It's not something unusual to smell every once in a while," Jackson said.
Neighbors assumed it was a dead animal.
A lesson learned, Jackson said, that he hopes his whole neighborhood will pay attention to.
The next step is for the Jackson County medical examiner to perform an autopsy to identify the body and figure out if there was any foul play.
Earlier coverage: