This is an archived article and the information in the article may be outdated. Please look at the time stamp on the story to see when it was last updated.
KANSAS CITY, Mo. — The Royals' very own athletic training staff hung out with local kids at Kauffman Stadium on Thursday, teaching them important lessons in a healthy and active lifestyle.
The 'PLAY' campaign is a national effort with the intention of Promoting a Lifestyle of Activity for Youth. (PLAY)
Dillon Gee, Royals' right-handed pitcher, joined the athlete training team consisting of:
Nick Kenney, Royals Head Athletic Trainer
Ryan Stoneberg, Royals Strength and Conditioning Coordinator
Jeff Blum, Royals Physical Therapist
Mitzi Dulan, Royals Nutritionist
Mike Spehr, Henry Schein Cares Foundation
Tavis Piattoly, Taylor Hooton Foundation
"I think it's extremely important to get them early. Anytime that you can create healthy habits and then they can turn that around and shift that into their own families," said Kenney.
The kids visited different stations to learn about strength and conditioning, healthy eating, preventing injury, and the dangers of steroid use.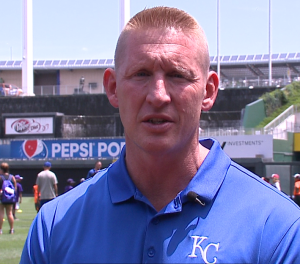 "I think we've gotten away from being active. Kids tend to stay inside more now. They're more video-friendly. They want to be in front of the TV. They want to be on their phone; they want to be on the computer, while we'd rather have them out in the sun and on the grass and being active and actually getting their heart rate up a little bit," Kenney said.
PLAY has conducted more than 200 events inside all 30 Major-League ballparks, reaching tens of thousands of America's young people with positive messages about making healthy decisions.