This is an archived article and the information in the article may be outdated. Please look at the time stamp on the story to see when it was last updated.
FAIRWAY, Kan. — It's a race to unlock a cure for Alzheimer's Disease.
Scientists at the University of Kansas Clinical Research Center believe exercise could play a key role in preventing the condition. That's what's led researchers from the laboratory into the gym.
No pain? No gain. Weightlifters often use that expression. Researchers at the KU Alzheimer's Research Center are entering a new study, examining potential ties between exercise and cognitive decline.
Dr. Jeffrey Burns, a veteran neurologist, said his staff is looking for healthy older adults with no memory problems to participate.
"There's a lot of hope that we can prevent it," he said Monday.
Burns said physicians have always known that exercise was good for the human body's muscles, and that it wasn't so long ago researchers learned it also promotes brain health.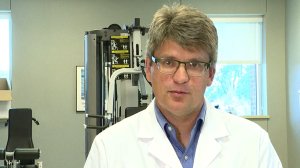 "There are some misconceptions out there. I think it's important to stress that, yeah, we can diagnose it, and we can treat it. But what we can't do is we can't cure it. We can't stop it," Burns said.
More than 5 million Americans battle Alzheimer's, including one out of three Americans aged 85 and older, which, as Burns pointed out, is one of the fastest growing segments of our population. That's why his researchers are searching for healthy volunteers over age 65 who can help with this project.
"We need people without memory problems. We need hundreds of people without memory problems to help us understand what can we do to help keep people healthy?" Burns said.
One of those subjects is 67-year-old Steve Grant, a semi-retired accountant who hails from the Gladstone area. Thus far, Burns said Grant shows no signs of the effects of cognitive decline.
"As the baby boomer generation matures, we are all more and more concerned about Alzheimer's," Grant told FOX4. "I'm personally interested in preventive measures that can save me problems with memory as I mature. I also hope it can be of service to the community at large."
"See it before it starts and stop it from progressing. That's our hope. We're going to get there someday," Burns added.
Millions of dollars in grant money from the National Institute of Health is fueling this study. Burns said he hopes to make progress in finding a cure.
If you're interested in becoming a volunteer participant, try the University of Kansas Alzheimer's Disease Center website. That research group's phone is 913-588-0555.