This is an archived article and the information in the article may be outdated. Please look at the time stamp on the story to see when it was last updated.
March 13 Update: Ruby has recovered! She has returned home and is reportedly looking forward to temperatures above 40 degrees. (Aren't we all?)
March 5 Update: Ruby is doing better! According to an update we received, she is still at the vet's office, but she drank 1.5 quarts of milk Wednesday morning. She'll remain at the vet's for the time being.
March 4 Update: After our story aired, the following morning we learned Ruby was headed to the vet because she wasn't eating like she should.
She's expected to receive IV fluids. Her owners have posted to Facebook saying, "Prayers for Ruby."
We'll keep you posted. See the initial story below the photos.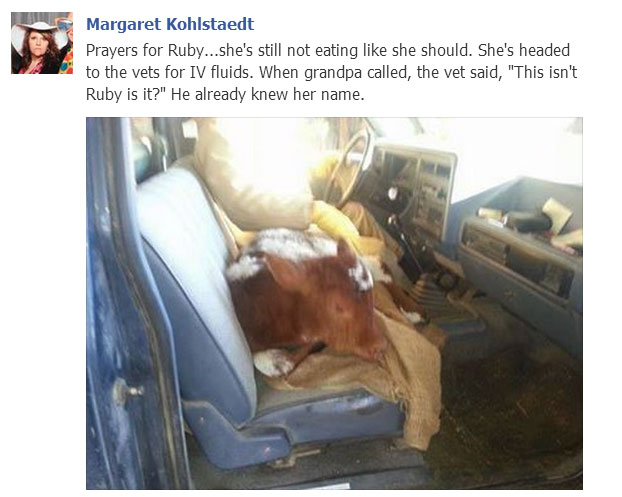 WELLINGTON, Mo. — One newborn calf is receiving special treatment after it was born in freezing cold temperatures.
Cold weather makes everyone's work tougher, including farmers. They feel the bite of freezing temperatures as much as anyone, since much of their work happens outside.
In Lafayette County, one farmer had to move his work from the chilly pasture to the warmth of the parlor.
Business on that Wellington, Missouri farm doesn't stop when the mercury sinks outside. The Kohlstaed family runs a cattle farm with close to 70 full-grown cows on hand, and when one of them gave birth this past weekend, Ruby, the new calf, came out of the cold barn and into the warmth of the Kohlstaed's living room. And since the birth on Sunday, Brian and Margaret Kohlstaed have stood watch over the baby calf.
"Yesterday at this time, this cow was almost dead," Brian Kohlstaed said on Monday morning.
Brian says Ruby was born slightly premature with a birth weight of only 65 pounds, and her ears and nose were frozen. He adds that it's very uncommon to need to shelter a cow, newborn or not, from the cold.
"I've had cattle since I was born, and I can't remember having more than a dozen in the house in 50 years," Brian said.
The living room isn't meant to be Ruby's long-term home.
"We are both animal lovers," said Margaret Kohlstaed. "I was all for it. I was like, 'let's bring her in.' He wanted to put her downstairs, and I said 'no, that the concrete was too cold.'"
So, it's a throw rug and the living room hearth instead.
"You can't control the weather, and this time of year, it's supposed to be 40 degrees, but we're below zero," said Brian.
Brian is a second-generation shorthorn cattle farmer. He cares for 100 head in all, including the young.
"We had two of them calving at the same time, and this one was little," he said. "Usually, the little ones get up and go quickly."
Kohlstaedt says it's been necessary to bottle-feed the calf, because cold weather affects newborns mentally, and freezing calves don't know how to take their mother's milk.
"If they don't have milk in their stomach, and the cow doesn't get them licked off good, within an hour or two, it's a critical time there," Brian added.
It's also protection of an investment, since a full-grown beef cow can sell for thousands of dollars.
"Anyone who sees a calf freezing like that, they have to feel for them," Brian said.
The Kohlstaeds say Ruby is responding well to the warmth of the living room, and they expect her to return to her mother in the barn in a day or two, especially as the weather continues to improve.
Click here to enjoy Sean McDowell's FOX 4 Facebook page.