This is an archived article and the information in the article may be outdated. Please look at the time stamp on the story to see when it was last updated.
UPDATE: Citing scheduling conflicts, KCK Mayor Mark Holland tells Fox 4's Dave D'Marko that Lamonte McIntyre will not be flipping the switch to light the city's tree.
Original story:
KANSAS CITY, Kan. — Lamonte McIntyre, recently freed after spending more than 20 years in prison for a crime he did not commit, will turn on the lights Friday during the Mayor's Holiday Lighting festival in front of Kansas City, Kansas City Hall.
Mark Holland, mayor and CEO of the Unified Government of Wyandotte County and Kansas City, Kansas said McIntyre is an inspiration and model of perseverance in the face of adversity.
"I cannot begin to imagine what it was like for Mr. McIntyre to lose more than two decades of his life for a crime he did not commit," Mayor Holland said. "Inviting him to turn on the lights is our way, however small relative to what he has endured, of welcoming Mr. McIntyre back to our community. We are very grateful and honored that he has accepted this invitation."
Lamonte McIntyre was charged, and convicted, for a double homicide in Kansas City, Kansas in 1994.
But after 23 years of court appeals and tireless efforts in the legal community, he was freed on Friday, Oct. 13.
A little more than 72 hours after he was released from prison, he spoke with FOX 4 about adjusting to a life much different than the one he spent the last two decades living.
"It feels good, it feels bittersweet sometimes," he said from his lawyer's office in downtown Kansas City on Sunday. "I'm here, I'm free, I'm grateful."
Watch: Now free, KCK man hugs woman who testified against him in murder trial that sent him to prison for 23 years
He expects April 15th will be a difficult day for him each year. That's the day the double homicide for which he was accused happened.  Donald Ewing, 34, and Doniel Quinn, 21, were shot to death as they sat inside a car.
Lamonte's mother, Rosie,  explained how her family found a card from a Kansas City Kansas police detective at their door. Sitting in the attorney's lobby, she described how Lamonte called the detective multiple times, but never got an answer. So Rosie offered to drive him to the police station, to speak with the officers in person.
Instead, she happened to see an officer's car in a restaurant parking lot. She pulled in, she said, and told the officer that someone wanted to speak with her son.
Within moments, she said, police inundated the parking lot. She said the officers searched her son for weapons, and then said they would take Lamonte down to police headquarters. They told her, she remembered, that she could come pick up her son in 15 minutes.
After 15 minutes, she said, she drove to the police station. "As I was entering the police station, I'm passing my son," she remembered. "We're passing each other… he's handcuffed, he's crying. He says 'Mama, they're charging me with two counts of murder.' Right then and there, started my nightmare." He was 17-years-old.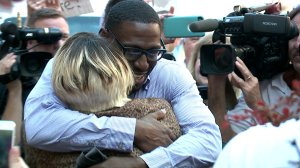 McIntyre was ultimately exonerated thanks to a lot of work from the Midwest Innocence Project which spent seven years investigating McIntyre's case. The unusual hearing took place at the Wyandotte County Courthouse. A retired chief judge from Hays, Kan., heard the evidence.
"God is good. I always kept faith. I knew God would take me and surround me with good people and he did that," McIntyre said.
During the hearing, witnesses recanted their testimony against McIntyre, claiming that they lied under pressure from KCK police to falsely identify him as the murderer.  A relative of the victims' testified that she had notified the prosecutor that a witness told her she was lying, but nothing was done about it.
This hearing also raised questions about the actions of a KCK police detective, who's now retired, and the prosecutor of the case.
McIntyre is starting from scratch: he has no work history, no job experience, no social security. A fund has been established to get him on his feet, as Kansas is one of 18 states that does not compensate wrongfully convicted people for their time in prison.
Before McIntyre turns on the lights, Unified Government officials will unveil a new street sign honoring former Mayor Carol Marinovich.
It is fitting that we honor Mayor Marinovich with this sign given the breadth of her contributions," said Holland. "Twenty years ago, she led the effort to consolidate our city and county governments, ushering in a new era of good government and unprecedented economic development."
The unveiling will happen at 4:30 p.m. at 7th Street and Barnett Ave.  The lights will be turned on at 7:15 p.m.
What:  Annual lighting festival to kick off the holidays and celebrate our community with family-friendly activities, performances, snacks, and crafts.
When:  Friday, Dec. 1, 4:00 to 7:30 pm
4:30 pm: Mayor Marinovich sign unveiled at 7th Street and Barnett Ave.
7:15 pm: Lamonte McIntyre turns on the lights
Where: Kansas City, Kansas City Hall Plaza, 701 N. 7th Street