This is an archived article and the information in the article may be outdated. Please look at the time stamp on the story to see when it was last updated.
SEDALIA, Mo. — The next time you get your kid's school pictures, check the watermark on the back and you'll likely find a local connection.
Inter-State Studio is the largest family-owned school photography lab in the nation, and it's based in Sedalia.
Right now is the company's busiest time of year. It will see 100,000 smiling student faces come into its facilities every day for the next few weeks.
"Crazy, right?" said Branden Boise on a busy Wednesday. He's the vice president of operations for the company.
"So we've got 500 people working here in Sedalia," he added.
It's their responsibility to make sure each smile looks as good on paper as it does in real life.
"That`s something that`s very important to us," said Leslie Nashed, Inter-State Studio's chief financial officer. "Making memories, capturing those memories for decades to come."
To do that, Inter-State said it's always on the edge of innovation.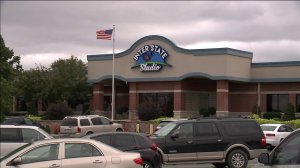 "We've tried to be a leader in a lot of things," Boise said from the humming production floor.
"We were one of the first companies to use digital cameras," he said. "We were one of the first companies to use digital printers, and we`re actually the first school picture company to use digital presses to print our pictures."
Just off the production floor is another piece of technology.
Inside a dark room, more than a dozen people are working quietly in front of computer screens. It's where some of the most important photo work is done: photo-shopping. This team takes care of stray hairs and skin blemishes, so nothing distracts from the students and their smiles.
But as new as some things are, the 85-year-old company still remembers it's heritage. In fact, it has a room devoted to it with artifacts of former photography equipment — and a lot of old photos to share.
The company realizes the unique position it's in, capturing a piece of history with each click of the camera. Prominently displayed on all the walls are school photos of the employees' children.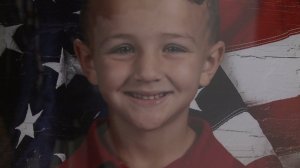 "You never know who`s going to sit down at the camera and what that student might be," President and CEO Aric Snyder Jr. said.
Also on one wall is a composite of a first grade class in Hope, Arkansas. In the top left corner, just beside the teacher, is a grinning William Jefferson Clinton. Years later, he would become the 42nd president of the United States, Bill Clinton.
Inter-State's current president is proud to keep the company in the Snyder family. His grandfather started the company in 1933.
The man with an eighth grade education won his first camera and chemicals in a poker game. He operated out of his Sedalia home but drove down the interstate system taking photos of schools.
His son, Aric Snyder Sr., expanded Inter-State's offerings: class picture composites, yearbooks, etc. It's a mission Aric Jr. and his sister Leslie Nashed take to heart.
"I think he'd be proud," Nashed said of her grandfather, "knowing where we got to."
She continued, "It means a lot to us to be family owned and to carry that on. But it's not just about my family."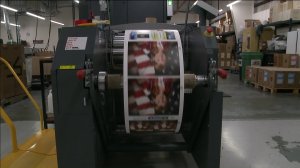 "We have a lot of families that are also in third generation working for Inter-State Studio. That's really important to us. Lots of employees — their grandparents worked here, their parents worked here. And we are very, very fortunate that it's a team, and we are here at Inter-State. And we all work together, and we couldn't do it without everyone."
Inter-State's employees are seasonal. The fall is busy with school pictures, and the company picks up work from third-party vendors to stretch work into December. Then it gets rolling again with Spring photos and yearbook printing.
Many employees are parents because Inter-State's breaks align with the school calendar.
It would be easy to think that Inter-State's biggest competition is today's smartphones. But the company's vice president of sales, a 48 year veteran of Inter-State, disagrees.
"There's a statistic saying there are about 1.2 trillion digital photos taken every year across the globe," said Rick Pettit, "and the vast majority are never printed out."
Nashed, the CFO and a third generation Snyder, agreed.
"And this is something you can have on your wall and have that legacy and tradition your kids, your grandkids and you have that every year. The same kind of moment in time," she said.
Pettit said the mall studios were actually the biggest competition Inter-State faced. Most of those have since shut down, and Inter-State remains.
Snyder Jr. said seeing all the faces on the walls and in the production area never gets old.
"You don`t know that child's story and how much it means to the family that`s going to receive it. It`s very powerful," he said.