This is an archived article and the information in the article may be outdated. Please look at the time stamp on the story to see when it was last updated.
INDEPENDENCE, Mo. -- In 2000, Erin Brockovich became a household name when actress Julia Roberts played her in the movie, "Erin Brockovich." The environmental activist helped win a multi-million dollar settlement and, in the process, open doors for women.
Brockovich grew up in Lawrence, Kansas, but now travels the nation as a champion for the environment, fighting for safer drinking water and giving women a stronger voice.
Recently she was in Independence, Missouri, speaking at the awards banquet for the Independence Chamber of Commerce on her career and current environmental investigations.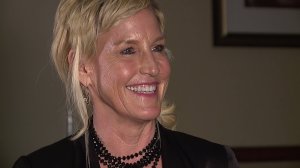 Her immediate focus was on the #MeToo movement and the Women's Marches going on around the nation that weekend.
Brockovich said she's waited her entire life for this moment.
"I started way back in the 90s, and people didn't always speak up," she told FOX4's Mark Alford. "They thought something was being taken care of. And once they realized it wasn't, they kind of started to rise. And I think we are in that moment where there is a real rise happening, and I'm very excited about it -- for women to find their voice and not be afraid to speak up."
Brockovich has never been afraid to speak up.
As a clerk in a southern California law firm in the 90s, Brockovich helped build a case against a huge power company and won a $333 million settlement for the citizens of Hinkley. They had been drinking chrome-tainted water for years.
Twenty-two years later, Brockovich said her dyslexia actually helped her discover the Hinkley pollution by working the problem "backwards."
Brockovich said she discovered herself along the way.
"I've grown up that if I feel you pushing on me, I'm going to definitely respond," Brockovich said. "I was judged. I was different, and people didn't understand that back then. And when we don't understand that, we tend to want to cover it up."
Brockovich said its that cover up that always leads to real change when it's finally unmasked, whether its water pollution in Detroit, political pollution in Washington or sexual abuse pollution in Hollywood or in gymnastics as we've recently seen with the plethora of cases against Larry Nassar.
Brockovich also said the fight isn't over.
"I think there's frustration whether it be inequality with pay or their positions or their frustration of not being able to feel like they could exceed," Brockovich  said. "You would think that the women's movement had come a long way, but it's pretty startling to see that really we haven't."
Brockovich believes the struggles society is seeing now will end with true equality between the sexes, but as she explained to the crowd in Independence: "Superman is not coming! We have to start speaking up for ourselves and fighting our own battles."
If you'd like to hear Mark Alford's entire interview with Brockovich, check out his podcast, "Gettin' Comfortable with Mark Alford," here.