This is an archived article and the information in the article may be outdated. Please look at the time stamp on the story to see when it was last updated.
LEAWOOD, Kan. — There are teenagers in need of help, and some are afraid to seek it. That, in a nutshell, is the reason a metro 15-year-old is organizing the You Matter Music Festival.
Eight bands will gather at the stadium at Blue Valley High School where they'll play positive jams and encourage fellow teens to seek care as needed for their mental health.
And Will Gurley speaks from experience. He's been making music for eight years, and a year ago, he began treatment for depression.
"I've talked," he said. "I think that's an important stepping stone, talking about it. I'm working on getting better. I'm the best I've ever been."
Gurley is among the performers scheduled to play at the free music festival on Aug. 11.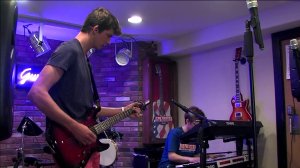 Speakers will also be on hand, sharing stories of their own mental health struggles and how their lives improved once they sought help.
Gurley said social media has a bigger effect on young people than their parents' generation might realize.
"The negative impacts it has, as well as positive, can be so detrimental to mental health. I think it's really impactful to our youth," he said.
Ryan Jacobs, Gurley's lifelong friend and a fellow musician, is also part of the festival's lineup. The 16-year-old aid many young people are afraid to express concerns about their own depression and anxiety.
"The first step is to normalize it and to know you're not the only ones going through this," Jacobs said.
Both Jacobs and Gurley said they know high school students who have attempted to harm themselves. Jacobs said he believes kids his age have been waiting for an opportunity like this — where they can seek help without being judged by their peers.
---
If you are having suicidal thoughts, we urge you to get help immediately.
Go to a hospital, call 911 or call the National Suicide Hotline at 1-800-SUICIDE (1-800-784-2433).
Click on the boxes below for our FOX 4 You Matter reports and other helpful phone numbers and resources.