This is an archived article and the information in the article may be outdated. Please look at the time stamp on the story to see when it was last updated.
LEAWOOD, Kan. — One Leawood family stepped up their Jayhawks fan enthusiam for this year's tournament. Every year, mom Sandra Condon and her three kids Reese, Nate and C.J. always debate when to put up their inflatable Jayhawk.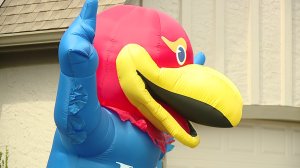 This year, they took it to new levels as they noticed neighbors and strangers enjoying their decorations.
They set up a Jayhawk 'Self'-ie station. They invited fans to take 'Self'-ies and tweet them to Sandra.
"I've had people come in my yard to take pictures of the Jayhawk. Stopped driving by or walking with their kids, so we just started offering to take their pictures for them. Then we found our KU paraphanelia. We thought it would be kinda fun to put it in a basket," explained Sandra.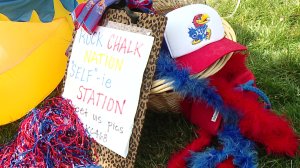 That's how the Condon-family 'Self'-ie station was born. Sandra says it has been well-received because most of her neighbors are Jayhawk fans. At her previous fans, she said she had lots of Mizzou-neighbors.