This is an archived article and the information in the article may be outdated. Please look at the time stamp on the story to see when it was last updated.
LEE'S SUMMIT, Mo. — Some people are fascinated by true crime and murder, especially one man in Lee's Summit who dedicated his van to it.
"I looked over and I saw this clown on it, and I go: 'No way is that what I think it is. There's no way I saw that on the side of this van,'" said true crime enthusiast and Lee's Summit resident Samantha Gaither.
But it wasn't just any clown, but Pogo the Clown, the alter-ego of serial killer John Wayne Gacy.
So Gaither obviously had to take a picture.
"I put it on the My Favorite Murder Kansas City Page, and it just went crazy," she said. "Everybody was like, 'Oh my God, this is insane.' It's hilarious. It's so funny, and it's just wild."
My Favorite Murder is a comedy podcast. It has hundreds of thousands of fans that call themselves "Murderinos."
"Yeah, these bad things happen, but we`re really interested in finding out how and why and how we can keep them from happening," Gaither said.
Gaither posted the pictures, and another "Murderino" in California tracked down the owner.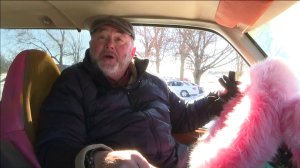 "Until this 'Murderino' group contacted me nobody had recognized it was Pogo," Gacymobile creator William Hodson said.
Hodson said he made it as a joke to his friend who wanted to drive for Uber.
"I didn't do it to offend anybody, and I would say I`m sorry if you don`t get my sense of humor, and it may not be everybody`s cup of tea, but that`s why we`re all different. I personally find it kind of funny," Hodson said.
When the group tracked him down, he couldn't put down his phone.
"It sounded like a railroad crossing. I got 3,500 shares and likes and comments in about three hours," he said. "So it was just, 'Ding, ding, ding, ding, ding!' all during dinner, all in the evening. I finally had to turn my phone off so I could get some rest that night."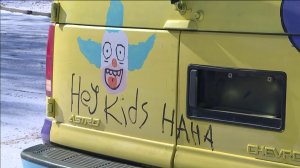 "I thought it was fun and crazy and a little piece of 'Murderino' Americana," Gaither said.
So, if you see it around town, Hodson said don't be afraid of the creepy clown.
"No worries. Come up and enjoy it. Get your picture taken, and enjoy it for what it is — a light-hearted joke," he said.
Lee's Summit police said Thursday they didn't know the van existed and haven't received any complaints about it.