This is an archived article and the information in the article may be outdated. Please look at the time stamp on the story to see when it was last updated.
LEE'S SUMMIT, Mo. — A Lee's Summit teenager has been charged in connection with the crash that killed two other teenagers in Jan. 2017 in south Kansas City, Jackson County Prosecutor Jean Peters Baker announced Tuesday.
Rodriquez Franklin, 19, faces two counts of DWI — Death of Another or in the alternative two counts of Involuntary Manslaughter 1st Degree.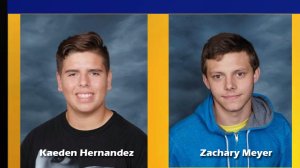 According to court records, Kansas City police responded to a crash in the area of 73rd and Prospect Avenue.  Kaeden Hernandez, 18, and Zachary M. Meyer, 18, were killed in the crash and dead at the scene. Hernandez was a student at Lee's Summit West High School. Meyer attended Lee's Summit North.
Franklin was the removed from the driver's seat by paramedics. A police investigation of the wreck revealed that  Franklin was driving at excessive speed when he lost control, striking a curb and a large tree. Witnesses said Franklin was driving his gray Hyundai car at approximately 100 to 120 mph, according to one witness, behind another vehicle driven by Franklin's girlfriend. She told police she was attempting to get away from vehicle and didn't know who was driving it.
Prosecutors requested a $50,000 bond.