This is an archived article and the information in the article may be outdated. Please look at the time stamp on the story to see when it was last updated.
LEE'S SUMMIT, Mo. — A used car salesman that FOX4 Problem Solvers has been reporting on for nearly a decade is back in the news again after dozens of customers were sold cars without titles.
Zach Jones, 20, is one of those customers. He bought a truck on Oct. 30 from Rocky Mehrraffie at Auto Enterprise in Lee's Summit. Mehrraffie's wife is listed as owner of the dealership.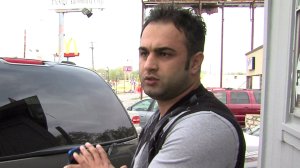 When Jones talked to FOX4 Problem Solver, more than 60 days had passed and he still didn't have a title.
"Some days they won't even answer the phone," Jones said.
Problem Solvers wasn't surprised to hear Jones' complaint. FOX4 had paid a visit to the car lot a few months earlier after receiving another complaint from a customer who was sold a truck that had been in a flood.
At that time, the sales manager offered to give the customer his money back, maintaining that he had no idea the truck had been in a flood.
We were hoping for another quick resolution for Jones, but Auto Enterprise refused to budge. It said the title problem was an honest mistake, and it would be sending Jones a new title soon.
But Jones wanted his money – something that he was entitled to since its illegal in Missouri to sell a vehicle without a title. A few days later, Problem Solvers received a phone call from an Auto Enterprise employee, letting us know the car lot was no longer in business.
Problem Solvers paid a visit to Auto Enterprise for answers, but the door was locked and our phone calls weren't returned. Missouri State Highway Patrol Cpl. Nate Bradley said he's been receiving complaints about Auto Enterprise for months.
"The two most common complaints are: 'I didn't receive the title,' and 'the vehicle should not have passed a safety inspection,'" Bradley said.
The Missouri Department of Revenue, which licenses car dealerships, is also investigating.
So what does that mean for customers like Jones who is still making payments to his bank for a loan on a vehicle he can't even register?
Zach's lucky. His bank has agreed to wipe the loan off its books in exchange for the truck, telling him that it should never have been approved since there was no title.
Mehrraffie's wife told a state official she plans to deliver the other outstanding titles. If that doesn't happen, those customers might have to hire an attorney and go to court to obtain a legal title to a car they thought they already owned.