This is an archived article and the information in the article may be outdated. Please look at the time stamp on the story to see when it was last updated.
LIBERTY, Mo. — A Liberty, Missouri, attorney was sentenced to six years in prison Thursday after pleading guilty to having numerous chats online that were sexual in nature with an undercover detective posing as a 13-year-old girl.
Jerome M. Patience, 40, of Independence, chatted with the "girl" for nearly a month in 2016, prosecutors said.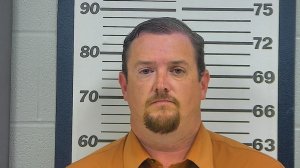 Patience was charged June 7, 2017, with attempted sexual exploitation of a minor and allegedly urging her to "take pics" while performing a sexual act. He is also charged with two counts of attempted sexual misconduct involving a child: one for sending a picture of his genitals and another for asking the "girl" to send explicit photos of herself. Finally, Patience is charged with attempting to furnish pornographic materials to minors for sending the picture of his genitals as well as written descriptions of sex acts to the "girl."
"Those who would attempt to use the Internet to exploit children can come from any walk of life.  Sadly, this is not the first lawyer we have prosecuted, and doctors, pastors, and teachers from across America have been convicted of Internet-based child sex crimes.  I urge parents to be continually mindful of their children's usage of any device capable of reaching the Internet," Platte County Prosecuting Attorney Eric Zahnd said.
According to court documents, on May 24, 2016, Patience allegedly began chatting with an undercover officer who was posing as a 13-year-old girl on the Internet. Investigators say the detective posing as a young teen girl, posted an ad on Craigslist, stating that she was looking for someone to hang out with because school was out.
The detective reported receiving an e-mail from a "Seth Johnson," who police claim was actually Patience.
The two allegedly chatted until June 22, 2016, during which time Patience or the "girl" mentioned nine times that she was 13-years-old.
Police say during the chats, Patience allegedly spoke of sex with her and showed interest in meeting. However, Patience allegedly said he was afraid to meet her because it was illegal, and he would lose his job and his family. He also allegedly wrote that he did not know where they could meet "that I can trust that it doesn't get me arrested."
Investigators ultimately identified the Liberty law office from which Patience was conducting his chat. He told the "girl" that he only chatted while at work and not during the evening or weekends. He also reportedly told the girl he thought was 'Allie' that he had been married for 15 years but that his wife does not like to have intercourse with him.
"I am just a normal guy that loves sex and actually looks for it," he allegedly wrote. The detective, posing as the 13-year-old girl, replied, "w a 13yo?"
Police say he answered that when he answered her ad, he did not know she was 13.
On August 25, 2016, investigators served a search warrant at the law firm. Patience's computer was allegedly open to the Yahoo account from which he had conducted the chat with the undercover officer from the Western Missouri Cyber Crime Task Force.
At the time of his arrest, he was working as an attorney at McClelland Law Firm, 200 Westwoods Drive, according to police.
Previous coverage: