This is an archived article and the information in the article may be outdated. Please look at the time stamp on the story to see when it was last updated.
LIBERTY, Mo. — Any longtime resident of Liberty can tell you this city has it all.
"I say a lot of times, if you can't find it in Liberty, you probably didn't need it anyway," Mayor Lyndell Brenton said.
Brenton has lived in Liberty his whole life. He now spends most days at city hall, near the downtown square.
"It's the heart of our city. When we have celebrations, when we have events, it's in the downtown area," Brenton said.
Liberty's Fall Festival is one of them. Every year thousands of people pack the square for this event on the last weekend of September.
"We have craft booths. We have commercial vendors. We have a carnival. We have a parade. We have all kinds of stuff for people to do. We have that small town feel, but we`re not really that small of a community anymore," said Gayle Potter, president of the Liberty Area Chamber of Commerce.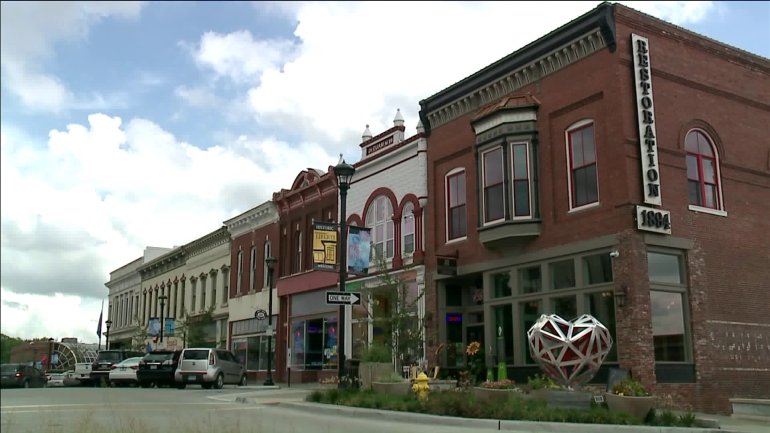 Every other weekend you can find a cool mix of boutiques, coffee shops, restaurants and even a brewery along the downtown square. Rock and Run Brewery and Pub opened five years ago, and the popularity of their brews has them expanding to reach more people in the metro.
"We just started canning. We canned our very first beer last week, 5k, which is an IPA, so you`ll be able to find that on the market here pretty soon," said Ashley Heinrichs, general manager of Rock and Run Brewery.
Rock and Run has become a staple on the square. But the beautiful downtown many people now enjoy has seen a lot of changes over the years. A building collapse two years ago has altered the look of things.
"It was a significant piece of the downtown square, and the way a lot of these downtown squares are built, one building depends on the structure of the next building. So we actually lost two buildings in that collapse. One that fell the day of the collapse, and one that we had to pull down later," Brenton said.
In 2003, a tornado tore through the other side of Liberty's square. That's since been rebuilt, and now thanks to a recent $5 million investment, the square is thriving once again.
But there's a lot more to Liberty than those four corners.
"We have a new area called Liberty Commons, right on I-35 as you come into the city. It`s about a $75 million center that  just opened up," Brenton said.
The city is working to update highways and add more lanes to interchanges allowing for easier access to the city.
"I`d encourage people to see the square but also venture out into the other areas as well because there's a lot to see and do in our city," Brenton said.
---
Editor's note: This is part of a new segment where FOX4 looks at the "Cool Cities" in our area on Thursday nights during FOX4 News at 9 p.m. But we need your help! 
Post your photos on social media using #FOX4CoolCities or drop us a line on Facebook to tell us what you love about your city. Next Thursday night, we're headed to Mission. Tell us what we should check out!