This is an archived article and the information in the article may be outdated. Please look at the time stamp on the story to see when it was last updated.
LIBERTY, Mo. — A huge honor for an area superintendent. The Missouri Association of School Administrators (MASA) selected Dr. Jeremy Tucker, the Superintendent of Liberty Public Schools, to be the 2019 Superintendent of the Year. It was announced during the annual fall conference held September 27-30, at Tan-Tar-A Resort, Osage Beach, Missouri.
MASA Executive Director, Doug Hayter, said, "Dr. Tucker embodies so many of the qualities of a great school leader. His staff and community know that he is dedicated to a 'student centered' approach to education. Other educational leaders in Missouri and across the country call on Dr. Tucker for his insights
into the best ways to effectively guide the learning process in a school district."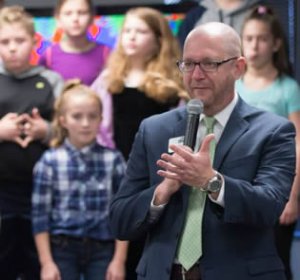 Dr. Tucker is in his fifth year as Superintendent of the Liberty Public Schools. Under his leadership, the district started a facility master planning process that resulted in the passage of a $49 million no-tax increase bond issue with 82% voter approval.
Before making his way to Liberty, Dr. Tucker served as Superintendent, High School Principal, Teacher, and Coach in the Logan-Rogersville School District. His first position in school administration was in the Dallas County School District in Buffalo, Missouri, where he served as a High School Assistant Principal. He earned a Bachelor's Degree in History from Evangel University, a Master's Degree in Education Administration from Southwest Baptist University, and a Doctoral Degree in Educational Leadership from Saint Louis University.
Dr. Tucker also has international experience. He spent 12 years overseas with stays in France, Togo, and Burkina Faso. Dr. Tucker will be recognized during the AASA National Conference on Education in Los Angeles in February 2019.