This is an archived article and the information in the article may be outdated. Please look at the time stamp on the story to see when it was last updated.
PARKLAND, Fla. — Deputies took a suspect into custody Wednesday afternoon less than two hours after they responded to reports of shots fired at a high school in Parkland, Florida.
The Miami Herald reported that a law enforcement source has identified the suspect as 19-year-old Nicolas Cruz, a former student of that school who may have been identified as a potential threat in the past.
"We were told last year that he wasn't allowed on campus with a backpack on him," math teacher Jim Gard, told the Miami Herald, who said Cruz had been in his class last year. "There were problems with him last year threatening students, and I guess he was asked to leave campus."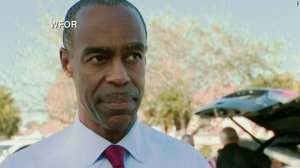 "There are fatalities that are involved. We can't confirm the number at this point," Broward County Schools Superintendent Robert Runcie said. "There are numerous fatalities. It's a horrific situation. It's just a horrible day for us."
Early Wednesday evening, officials said 17 people, including both students and teachers, were killed in the shooting.
Twelve victims were found in the building, two people were found just outside the building, one victim was found dead in the street, and two people died at local hospitals, Broward County Sheriff Scott Israel said.
At least 12 people were injured, he said.
Frantic parents rushed to the scene and ambulances converged in front of the Marjory Stoneman Douglas High School. Live footage showed emergency workers appearing to treat possibly wounded people on the sidewalks.
Israel said the shooter was outside and inside the school at points during the attack, and taken into custody "without incident" about an hour after he left the school. Israel said police were waiting for the SWAT team to give them the all-clear so that they could go inside the school.
The high school is a sprawling complex set on a tract in the South Florida community of Parkland, about 45 miles north of downtown Miami.
The school had just over 3,100 students in the 2016-2017 academic year, according to the National Center for Education Statistics. Major streets run along two sides and an expressway passes nearby on the other not far from a residential neighborhood of single-family homes.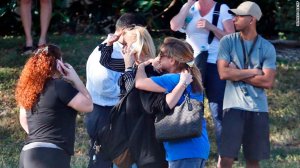 Television footage showed police in olive fatigues, with weapons drawn, entering the school, then dozens of children frantically running and walking quickly out. A police officer waved the students on, urging them to quickly evacuate. Some students exited the building in single-file rows with hands raised overhead to show they carried no weapons. Others held onto other students as they made their way out past helmeted police in camouflage with weapons drawn.
The Broward Schools department said on its website that students and staff heard what sounded like gunfire and the school immediately went on lockdown.
Michael Nembhard said he was sitting in his garage about a mile away from the school watching the coverage on TV when he heard a police officer yelling, "Get on the ground, get on the ground, get on the ground!" He looked up and about 150 yards (140 meters) away he saw a teenage boy on the ground and an officer pointing a gun at him. The officer stood over the boy until other officers arrived, and the boy was handcuffed behind his back and taken away, Nembhard said.
At the school, Noah Parness, a 17-year-old junior, said the fire alarm went off for the second time of the day about 2:30 p.m. He said he and the other students calmly went outside to their fire drill areas when he suddenly heard several pops.
"Everyone was kind of just standing there calm, and then we saw a bunch of teachers running down the stairway, and then everybody shifted and broke into a sprint," Parness said. "I hopped a fence."
Beth Feingold said her daughter, Brittani, sent a text at 2:32 p.m. that said, "We're on code red. I'm fine," but sent another text shortly afterward saying, "Mom, I'm so scared."
Brittani later was able to escape the school, but was running along a busy road for part of the time, in what was a very chaotic scene around school — one of the state's largest in the county with about 3,000 students.
Feingold said her daughter struggled with anxiety so she knew that she needed to stay calm. She told her daughter in a phone conversation when she was still inside a school building that a Swat team was there to protect her. She said she told her: "Your dad is on one side of the building, and I'm on the other."
Feingold said there had been a fire drill in the morning. Then in fourth period, someone pulled the fire alarm again and shouted code red.
Caesar Figueroa said when he got to the school to check on his 16-year-old daughter, he saw police officers drawing machine guns as they approached the campus.
"My wife called me that there was an active shooter and the school was on lockdown. I got on the road and saw helicopters. … It was crazy and my daughter wasn't answering her phone." She finally texted him that she was inside a closet with friends.
Len Murray's 17-year-old son, a junior at the school, sent his parents a chilling text around 2:30pm: "Mom and Dad, there have been shots fired on campus at school. There are police sirens outside. I'm in the auditorium and the doors are locked."
A few minutes later, he texted again: "I'm fine."
Murray said he raced to the school only to be stopped by authorities under a highway overpass within view of the school buildings. He said he told his son to save his battery and stop texting, while the boy's mother told him to turn off his ringer.
No information has been provided yet to parents, he said. "I'm scared for the other parents here. You can see the concern in everybody's faces. Everybody is asking, 'Have you heard from your child yet?'" Murray said.
Murray said he's had just one thought running through his mind since he got his son's text: "All I keep thinking about is when I dropped him off this morning. I usually say, 'I love you,' and I didn't this morning. He's 17, he's at that age, and I didn't say it this morning, and I'm just kicking myself right now over and over and over. Say it early and often, I'm telling you."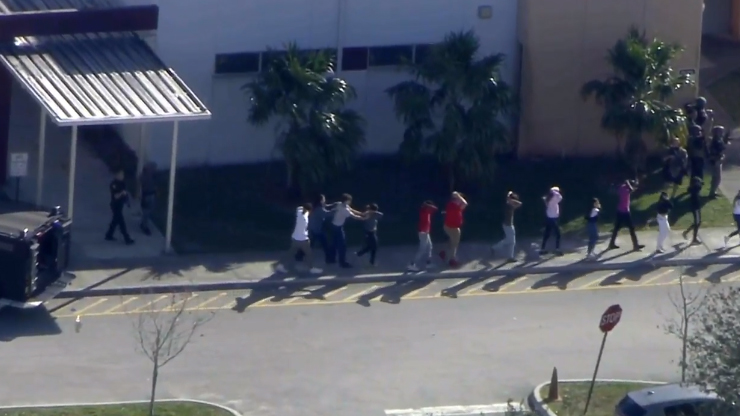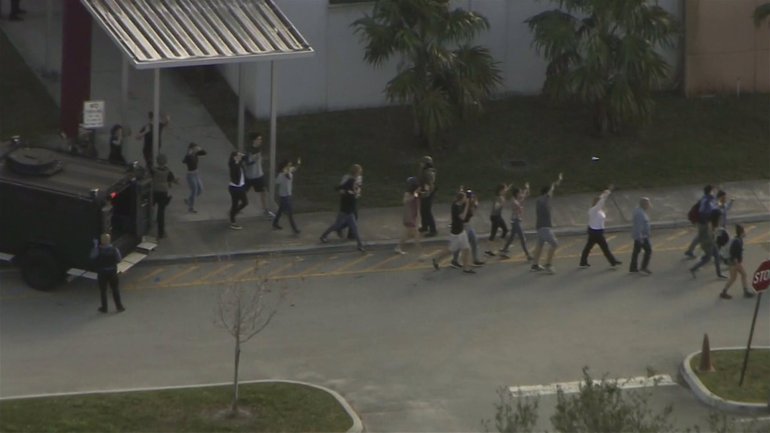 WSVN spoke to a former classmate of the alleged shooter, who described him as "a troubled kid."
"He's been a troubled kid, and he's always had a certain amount issues going on. He shot guns because he felt that it gave him… an exhilarating feeling," the student said. "He showed me [his guns] personally through his phone. I stayed clear of him most of the time during my time in the alternate school. I didn't want to be with him at all because I saw those, like, I didn't want to cause any conflict with him because that's the impression he gave off," the student said.
"He played around with the joke multiple times. You know, he knows the layout of the school; he can actually go ahead and he can pinpoint where all the students would be. He's been through the drills multiple times."
"We've got to be able to recognize individuals who are in distress," the superintendent said about the mental health crisis in America, which he said was growing.
Student says alleged school shooter was a "troubled kid" pic.twitter.com/O0zZ6An2XM

— WSVN 7 News (@wsvn) February 14, 2018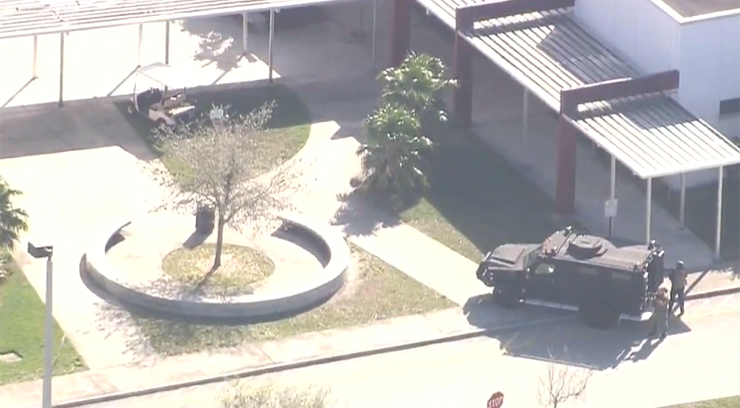 Student describes scene at Marjory Stoneman Douglas High School pic.twitter.com/KPgYpJGeWA

— WSVN 7 News (@wsvn) February 14, 2018