This is an archived article and the information in the article may be outdated. Please look at the time stamp on the story to see when it was last updated.
KANSAS CITY, Mo. — Jackson County Prosecutor Jean Peters-Baker announced that Mohammed Pedro Whitaker, 27, has been charged with 18 felony counts related to 12 shooting incidents on Kansas City highways. Baker said additional charges are expected as the investigation continues.
Of the 18 counts, seven counts include the unlawful use of a weapon, two counts include the unlawful use of a weapon that resulted in an injury and nine counts of armed criminal action.
"Charges would not be filed if we weren't confident we had the person responsible for these shootings," Baker said. She said she had no evidence that anyone else was involved.
Kansas City Police Chief Darryl Forte said he's also confident they have their man.
"I have a level in confidence that the person in custody is responsible for what has been going on on our streets," Forte said.
Before charges were announced, FOX 4's Robert Townsend spoke with Whitaker's father, Edward Whitaker, who said his son is innocent.
"My son is not the highway shooter," Edward Whitaker said. "I don't think he did what they are accusing him of. He is not a murderer or a shooter. He's not a violent person."
Edward said he spoke with his son a couple of weeks ago.
"We last talked April 7th, and everything appeared to be normal," he said. "He asked to borrow some money."
During Friday's news conference, Forte said police received over 100 leads — and said leads continue to come in.
According to court documents, ballistics tests connected .380 caliber bullets recovered from shooting incidents from March 18 to April 6. Witness reports linked Whitaker's car to the crimes. Additionally, court records indicated while Whitaker was under police surveillance, he was seen pacing cars in their blind spots while on the highway.
Click here to learn more about the evidence police and prosecutors say they have against Mohammed Whitaker, outlined in the probable cause statement. Prosecutors requested a cash-only bond of one million dollars.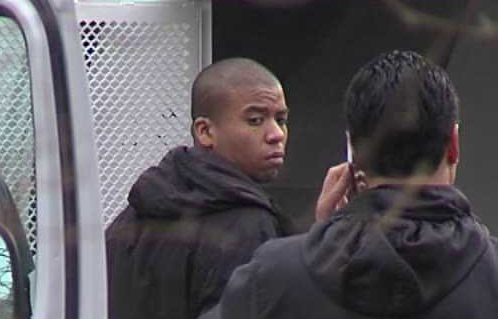 Investigators from the ATF, FBI and area police departments assisted in the investigation.
Since March, police confirmed 20 highway shootings had been reported since March. Police linked 12 of those shootings in which three people were injured.
"We wanted to make sure the residents and those who travel through Kansas City know that they are safe and they have been safe the whole time," said Chief Forte. "If you've paid attention there have been marked and unmarked cars on the highways. So we want people to know they are safe. We have a person in custody and he has not yet been charged."
After the arrest, Kansas City police called in a tow truck to haul away a green Dodge Neon with out-of-state plates. The car towed away matches the basic description some of the highway shooting victims were able to give police early in the investigation.