This is an archived article and the information in the article may be outdated. Please look at the time stamp on the story to see when it was last updated.
KANSAS CITY, Kan. -- Brandon Wilson returned to Kansas City on Tuesday from Nationals Park with his Scott's Pitch Hit and Run trophy in hand.
The 8-year-old represented the Royals as one of 24 finalists in the national competition with more than 600,000 participants.
"My first two pitches were way off, and I thought to myself, 'I`ve got to hit the next four or I`m not going to win this competition,'" Brandon said.
He was announced as the winner for his age division during the Home Run Derby. He shagged fly balls during the event, including catching one of Bryce Harper's few hits in the finals that didn't go over the fence. He also watched the Celebrity Softball Game and got a softball signed by Shaquille O`Neal.
He returned to Kansas City in time to watch the All-Star Game with family Tuesday night.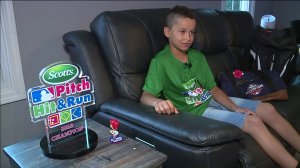 "It was a really cool experience to be on the field that the All-Stars are playing on right now," Brandon said. "It was really cool to play on the field the people from the Home Run Derby played on. It was just really amazing."
Just last week when asked if he'd thought he'd one day make the majors, he replied,"Yep! Guaranteed!"
Now with his trophy by his side, the competitive league player has set his sights even higher.
"Depending on how long my career is, if I'm 10 years, I want to be a 10-time All-Star," Brandon said.
If history is any indication, the 8-year-old has a better-than-average chance of achieving that dream. Previous Pitch Hit and Run competition winners include Rhys Hoskins, Jake Junis and Eric Hosmer.