This is an archived article and the information in the article may be outdated. Please look at the time stamp on the story to see when it was last updated.
KANSAS CITY, Mo. — Fast food workers in Kansas City have joined a nationwide protest Monday as part of their continuing fight to raise the minimum wage to $15 per hour.
At noon outside the McDonald's on Emanuel Cleaver Boulevard, Stand Up KC will join with Poor People's Campaign to continue spreading the message of Martin Luther King Jr., and the sanitation workers in Memphis. Monday's protest falls on the 50th anniversary of the historic Memphis Sanitation Strike, when workers protested for a $2 per hour raise.
Bridget Hughes, a local mom of three, has worked in fast-food for 10 years. She spoke at the rally.
"Low wage workers today here in Kansas City and across the nation are carrying on the tradition of Dr. King and the sanitation workers. Every day, working people are overcoming our divisions and organizing together to win better for all of us. We know that McDonald's and these billion-dollar companies are trying to rig the political and economic system against us. Are we going to let them do that? If we are going to win, we must use our strength in numbers and come together as one people."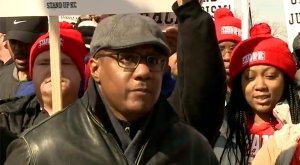 Dr. Clarence Lang, a KU professor and chair of African and African American studies, also took to the podium to reflect on past labor struggles and how they can serve as an example for future battles.
"Fifty years ago, Martin Luther King Jr. was in Memphis, Tennessee supporting sanitation workers who were fighting for dignity, who were fighting for union representation, who were fighting for better wages, who were fighting for respect, who were fighting for racial equality," Lang said. "He understood that that struggle was exemplary, that that struggle was foundational for the broader work that he was trying to do."
Lang said that the march today was not to celebrate past victories, but to "look to the sanitation strike, look to the Poor People's Campaign as a way to empower our work today."
Current minimum wage in Missouri is $7.70 per hour. Workers hopes to see a $7.30 per hour raise.
Hughes told FOX4 that her $10 per hour pay is not cutting it.
"Even with both my husband and I's income, we are forced to live in a two-bedroom apartment," Hughes said. "We do need the union, which is the biggest part. The union will secure our protection on the job and will secure the wins that we do have as far as wages and benefits on the job."
Watch FOX4 reporter Kathy Quinn's full interview with Hughes here.