This is an archived article and the information in the article may be outdated. Please look at the time stamp on the story to see when it was last updated.
BASEHOR, Kan. -- Grape harvest at Holy Field Vineyard draws so many eager pickers; they have to take reservations to work the fields.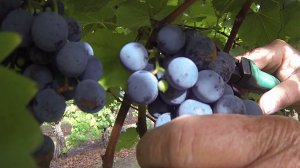 The Basehor, Kansas vineyard is celebrating its 20th year.  They have won numerous awards for their wine.
The September sun streaming down on the vineyard ripens the fruit and draws volunteers from miles around. Eager volunteers file into the vineyards to help with the harvest; they admittedly enjoy the fruits of their labor.
When Les and Michelle Meyer, first planted their grape vines, they thought they were just sharing some time and a hobby together.   They never envisioned 16 acres and 10 thousand gallons of some of best wine in Kansas
"There is an old French saying says 'there is nothing a grape vine likes better than the shadow of its owner on it.' We have our shadow on it a lot of days," said Les Meyer.
And the shadows of this father and his daughter often blend into one as they hunch over vines that drip with clusters of fruit.
"We both have a passion for it.  When you can share something like that with someone, you don't always get that in life. I think it's pretty cool that I get to do that with my dad," said Michelle Meyer.
And 20 years of nurturing and coaxing these vines into strong rows that produce a lush harvest has paid off.
"One time Michelle and I sent two wines to a competition in California. And come back one of them won double gold the other won a gold. I just cried," said Les
Les believes you get in the bottle what you put into the vineyard, and he has a lot of followers that agree. But these vine dressers have no plans to expand.
"I'm the size I want to be bigger isn't always better.  As long as you know what you want you got the world by the tail I think," said Les.
But to be honest even in the beginning they never did.
If you want to volunteer to work the rows at Holy Field you will need to call early next year.  They are all full for the rest of this harvest.