This is an archived article and the information in the article may be outdated. Please look at the time stamp on the story to see when it was last updated.
KANSAS CITY, Mo. -- A metro mother is praising a quick-thinking friend and other neighbors. They stopped a man from kidnapping her 11-year-old son and carjacking another woman on May 31.
FOX4's Marcus Officer spoke with the mother near E. 56th Terrace and Swope Parkway to get her reaction, now that her son is home safe.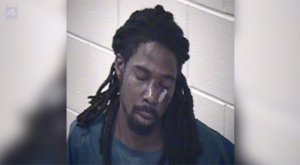 31-year-old Larry Shelton made it about 100 yards from the apartment where he allegedly tried to kidnap that boy. But that was as far as he made it before a few folks stepped in.
They said they kept him from stealing a car from another woman while her 11-year-old son was inside.
"This is the door that he kicked in. They fixed it; it was cracked up and messed up," Demesha Fuel said.
Fuel had just left to go to the store when she got a call from a neighbor that Shelton kicked in her door and walked out with her 11-year-old son.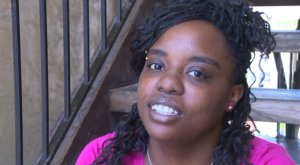 "He walks him out and then he takes him up to the mailboxes, where that sign is," Fuel explained.
But that's as far as Shelton got. Fuel said bystanders jumped into action as Shelton attempted to steal a car from another mother who was traveling with her son.
"I'm really grateful because I don't know what I would have did if my son would've been gone," Fuel said.
Fuel said Shelton was just someone she knew in passing.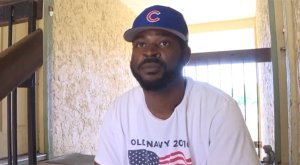 Neighbor Thomas Jones said knowing how quickly strangers came to help brought him a sense of peace, especially since he has two young daughters.
"That was a blessing. You hear about it all the time about how they want people to step up and get into action instead of sitting back and the first thing they
want to do is pull out their phone. To hear that this man actually stepped in, go up there to pull this man out of the car, and help her with her kids, I'm happy for it," Jones said.
It reminded him of the good that's inside of his neighbors.
"It shows that they have big hearts. It shows that there's more than what you see out here," Jones explained. "We assume people won't help you and then when someone actually steps in like that in the nick of time to help that shows a lot, that people out here really care."
Demesha and her son are still trying to wrap their minds around why something like this happened, but they do so knowing they're surrounded by people willing to go out of their way to help.
"It's really a blessing to also have neighbors like that. You never know who's got your back until something really goes down," Demesha said with a smile.
Shelton is charged with kidnapping and other related crimes. He is held on a $75,000 bond.