This is an archived article and the information in the article may be outdated. Please look at the time stamp on the story to see when it was last updated.
KANSAS CITY, Mo. -  The Olsson Associates board room was full of future designers and engineers Thursday afternoon in KC.
About a half dozen students from Kansas City's Green Works were visiting to gain a better understanding of the job and the education required to land a position in this field.
"Green Works is an environmental education program, and we also do job development," said Charlotte Cline-Smith, director for workforce development with Green Works.
"We work with KCPS high school students, and our goal is to get them ready for jobs by the time they're done with high school," she said.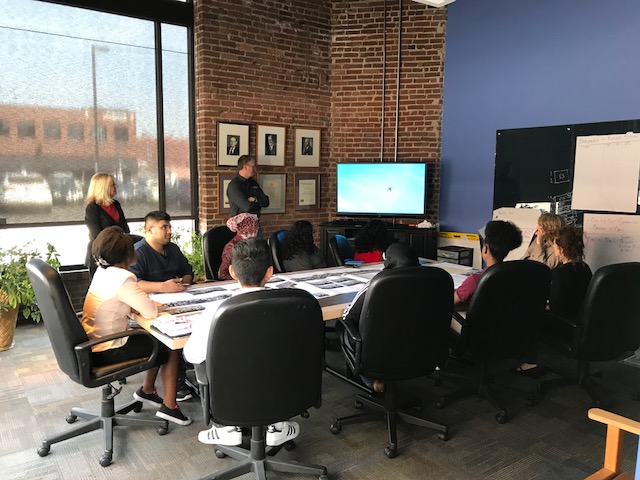 About 100 new students are accepted into the program every year. Enrollment has grown every year since the organization was founded 10 years ago. They served about 75 students in 2016 and are currently serving 115 students during this current school year.
"We're focused on serving least-privileged students. Primarily we're looking for the students who know where they want to go but don't have the support or the plan to get there," Cline-Smith said.
Through the program, students meet weekly. Sometimes they volunteer, other times they visit a job site. Each experience prepares them to be more engaged in the community and more focused on their career goals.
"We go through everything from interview skills, public speaking, critical thinking," Cline-Smith said.
Students in their second year with Green Works focus a lot on networking and career development through the Excelerate program. They research careers, prepare resumes, do mock interviews and meet with professionals in their desired field.
"What we're trying to do is provide students with sometimes their first engagement with a professional one-on-one," Cline-Smith said.
This face-to-face mentoring can make a huge difference in helping a student make important decisions about the future.
"I feel like a better person because some people don't get to do the things I'm doing, like experiencing what kind of job they want to do and then going out and experiencing it and seeing how it really is and it's really fun," said Keyaira Cooper,  a junior at Hogan Preparatory Academy.
One student said since moving to the U.S. from Pakistan two years ago, participating in Green Works has tremendously helped ease the transition.
"It's actually helped me a lot overcoming public speaking and working with groups together, how to overcome problems," said Mian Wabbas Shahid, a senior at Northeast High School.
Organizers said collaborating with students and local businesses is something that will benefit everyone in the city for years to come.
"Our own students in these public high schools are turning into our future professionals, and we're working together to do it," Smith said.
Green Works also places students in internships for the summer. The students are there as volunteers but get paid through the nonprofit. They're always looking for sponsors to support students through their internships and volunteer to speak with the students or let them come tour your work space.
If you want to learn more about the program, how to enroll or how to help out, visit this site.