This is an archived article and the information in the article may be outdated. Please look at the time stamp on the story to see when it was last updated.
KANSAS CITY, Mo – The trucking industry needs more drivers to keep up with the growing economy, and it's forcing local trucking companies and schools to step up their game.
An estimated 71 percent of freight moved in the U.S. ends up on a semitrailer, according the American Trucking Associations. The economy would suffer without them.
"These men and women really are kind of the heroes of the open road," said Phil Wilt, president and COO of American Central Transport in North Kansas City. "They're out delivering the things we enjoy as consumers."
This year, the trucking industry needs an additional 51,000 drivers to keep up with the demand from big companies like Amazon and Walmart. The ATA projects the shortage could skyrocket to more than 100,000 drivers by 2022.
"Not until the economy has really started to pop are we seeing the fact that there really is a shortage," Wilt said. "In other words, freight is sitting on docks, it's not being moved as fast as customers would like to see.
Although a booming economy is a good problem to have, the shortage could cost the customer.
"Most likely, we're going to see prices go up on things that we consume," Wilt said. "Certainly, it may be the fact that things take a bit longer to get in. Time will tell."
The shortage has forced companies like Wilt's to re-evaluate their recruiting habits. The family-operated company launched a program that offers an additional 8-week hands-on training for new commercial drivers.
"The shortage we're experiencing is challenging every trucking company out there to look at things a little differently," Wilt said. "For us, we're looking at students, where in the past we would not have done that."
Individuals looking to attain their commercial driver's license have a few options in the metro, including at Johnson County Community College, where they have a 160-hour CDL training program on the weekends.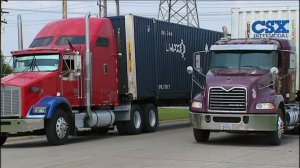 "We have companies that come out every single night of our class," said Josh Smith, the transportation program director at JCCC. "Some of them have realized that when they hire our students, our students are better prepared for the road ahead."
Attending a CDL program or school in the metro costs between $4,000 and $7,000, according to Smith. The programs could vary anywhere from four to 10 weeks.
Once you complete a program and land a job, industry insiders say the pay, which is based on mileage, is good.
"The average pay in Kansas City is about $58,000, but we have some employers that come to our program and pay as high as mid-60s," Smith said.
John Parrish has been hauling freight across the country in his big rig for a little over 18 years. He believes the pay is reasonable.
"Considering what I'm paid per mile, I make more than several college grads do right now," said Parrish, who occasional brings his wife and grandchildren along for the ride.
Still, one of the biggest challenges of constantly being on the road is being away from family. According to the U.S. Bureau of Labor Statistics, truck drivers log nearly 500 miles per day and will average about 100,000 miles each year.
James Webb, who has 31 years of experience as a truck driver, struggled with being away from his family in the beginning.
"I was used to being home all the time, and whenever I started, it was hard because I was married and had a daughter who was a year-and-a-half old," Webb said.
The southern Illinois native stuck with it, saying it's a good profession with a lot of stability.
"A lot of places have had layoffs, but in this industry it's very seldom," Webb said. "I've never experienced anything like that. You maintain a good record, and you have a job."
People in the trucking industry will admit the job can be a rough lifestyle, but they insist there will always be a need for drivers and the job can be rewarding.
"It can be fulfilling knowing that you've done something worthwhile. You've accomplished something, and I don't see that in too many office jobs," Parrish said.
You must be at least 18 to hold a CDL, but you can't drive across state lines until you're 21. Most companies also conduct a background check, which often include a drug test and a look at your driving record.
For more information on CDL requirements in Missouri, click here. For more information on CDL requirements in Kansas, click here.