This is an archived article and the information in the article may be outdated. Please look at the time stamp on the story to see when it was last updated.
PLEASANT VALLEY, Mo. — After finding out that a quarter of a million dollars' worth of brand new clothes needed a new home, a local union is donating it to veterans in need instead.
"It's never been worn — ever," Dave Grant said.
Grant is the chairman of the veterans committee for United Auto Workers Local 249. He recently learned from another union worker that an area auction company was looking to for a new home for the clothes because it couldn't sell them.
The clothes, which Grant said the auction company valued at $250,000, were originally made for cadets at the now-closed Wentworth Military Academy in Lexington, Missouri. Grant said Wentworth would have likely thrown them away, but the auction company wanted to donate them.
"It's all military-geared stuff, but there are no emblems on them, so they look just like dress clothes," Grant said.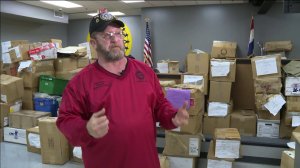 He reached out to the auction company, and it agreed to donate the items to the union so it could give them to veterans.
"I was overwhelmed," Grant said. "I wasn't expecting this much stuff."
Among the dozens of boxes currently siting in the basement of the union hall are pants, shorts, shirts, coats, gloves, flip flops and other items.
"Veterans in this country unfortunately a lot of times don't feel like when they come back from combat situations that they are really wanted or that they're even thought of," Grant said.
Grant also knows what it's like to reintegrate into civilian society. He served in the military for 20 years.
"I didn't let everybody know that I was struggling not only mentally, but financially, and it was tough to get by," Grant said. "I needed help back then, and I was too proud to say I did."
Grant is hoping the small gesture will make veterans who aren't as fortunate feel better about themselves and help them get back on their feet.
"We do our best to thank the veterans for their service to our country and the sacrifices they have given, and this is just a way to give back to them," he said.
Grant and other union workers plan to load up their trucks Thursday morning and drop off the clothes at four local veterans' groups. He said the auction company will drop-off another $250,000 worth of clothing in January.
---
Editor's note: A previous version of this story stated the auction company was going to throw away the clothing. After speaking with the company, FOX4 has updated this story.