This is an archived article and the information in the article may be outdated. Please look at the time stamp on the story to see when it was last updated.
KANSAS CITY, Mo. -- A Kansas City hero was officially pinned with his Purple Heart medal today, decades after earning it.
Alex Fulton, a local veteran, received his medal in the mail after returning home from Vietnam in 1968. It took 48 years, but on Monday he finally received it in proper military style.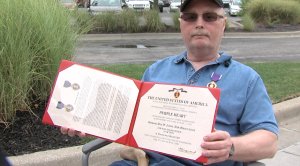 "I just felt lost by not having it," said Fulton.
A pinning ceremony was held today at the Kansas City VA's Honor Annex for the 68-year-old veteran, who earned a Purple Heart for his actions in the Vietnam War.
"When I got it in the mail, I felt that I was worthless, like I didn't earn it," Fulton added.
It was a long overdue ceremony, but Fulton finally received the recognition he deserved.
"After all this time, it's wonderful that somebody is taking the time," Fulton said.
Members of his veterans group wanted to make sure he received his medal in military style -- an honor he's been due for nearly half a century.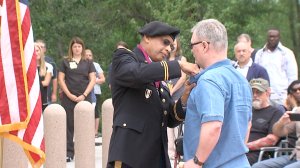 "His group of fellow veterans wanted to make this right, and so we were honored today to make that right, and to pin that Purple Heart on him, and give him some recognition that he so rightly deserves," said Kathleen Fogarty, the Director of the Kansas City VA Medical Center.
Fogarty said it's much more meaningful to have a medal pinned on them.
"Many of our veterans, especially in the Vietnam era veterans, didn't come home to great parades, and we want to recognize that. It may be 50 years as a commemorative, but we believe it's never too late to say thank you and to honor their service," Fogarty added.
Fulton joined the Marines in 1966 and shipped out to Vietnam in April 1967.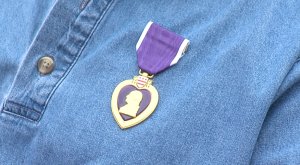 He was wounded in the head and legs during a barrage of rocket fire. He ended up in a combat field hospital for surgery and flown to Japan for recovery.
"Proud of it. I hope my family understands where I come from," Fulton said.
Fulton said a lot of veterans don't get the recognition they deserve for sacrificing their lives for our country.
"A lot of other guys didn't receive this, so I'm very fortunate to be alive to get mine at this late date," Fulton said. "One of the best closures I can have right now. It takes care of a lot of nightmares."