This is an archived article and the information in the article may be outdated. Please look at the time stamp on the story to see when it was last updated.
KANSAS CITY, Mo. -- A rare female baseball legend has died.
"All we knew was baseball, and this is all we did," Mamie 'Peanut' Johnson told the Negro Leagues Baseball Museum a few years ago.
Johnson was one of just three women to play in the Negro Leagues in the 1950s. She died this week at the age of 82.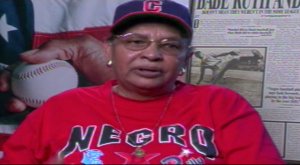 Johnson earned the nickname "Peanut" because she stood at just 5-foot-3. But she was impressive on the field as a strong right-handed pitcher. Her accomplishments earned her a place in history and inspired many young women to follow.
The Negro Leagues Baseball Museum in Kansas City honored Johnson with a bronze bust just last year.
"Every time we lose one of these legendary athletes who played in the Negro Leagues, we lose a piece of that history," said Bob Kendrick, president of the museum. "That window closes just a little bit more. But it also I think magnifies why this museum is so important because Mamie 'Peanut' Johnson's legacy will play on here at the Negro Leagues Baseball Museum."
After baseball, Johnson went on to finish college and enjoyed a 30-year nursing career.
The Negro Leagues Baseball Museum is working on a brand new display to honor female players, including Mamie Johnson. It's set to debut early next year.