This is an archived article and the information in the article may be outdated. Please look at the time stamp on the story to see when it was last updated.
OLATHE, Kan. -- The man accused of killing his pregnant girlfriend in Olathe was in court Friday afternoon for his first appearance.
Devonte Wash, 26, is charged with capital murder in the death of 23-year-old Ashley Harlan.  Harlan was found shot to death in her Olathe townhouse Jan. 30.
Wash stood before a camera, answering brief questions from a judge hearing the capital murder charge against him. Several of Ashely Harlan's family members were in the courtroom to watch the proceeding.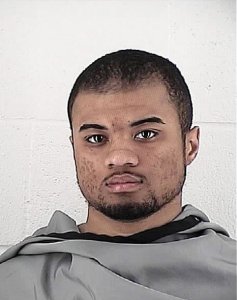 "It's huge for our family. We look forward to getting justice for Ashley and her baby boy," said Nikki Chapman, Harlan's aunt.
Wash is being held on $5 million bond. He initially asked for a public defender. But well known defense attorneys Mark Manna and Jeff Dazey, who specialize in death penalty cases, stepped forward in court, saying they'll be taking the case.
Prosecutors said they're able to pursue a capital murder charge because there are two clear victims.
"Under criminal law, for this reason, a person, an unborn child in the mother`s womb is considered a human being," said Steve Howe, Johnson County district attorney.
Investigators believe there are still several people who know about what happened to Harlan that they are still trying to identify. That's why they, and the family, continue to plead for tips to help build a solid case.
"We need as many tips to come in," Chapman said. "The reward money is still there. Please if you know anything, we want justice for our niece. Please, please, call."
In Kansas, a capital murder case is eligible for the death penalty. But prosecutors said they don't legally have to decide whether they'll pursue that punishment for a while.
Wash is due back in court May 3.