This is an archived article and the information in the article may be outdated. Please look at the time stamp on the story to see when it was last updated.
OTTAWA, Kan. — Kyle Flack, 27, the man investigators say raped and killed a young mother, killed her 18-month-old daughter, and also murdered two other men on an Ottawa farm, returned to a small Franklin County, Kan. courtroom Monday, this time accompanied by the attorney assigned to represent him.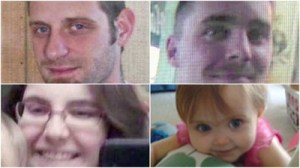 Flack is charged with the murders of Steven White, 31, Andrew Stout, 30, Kaylie Bailey, 21, Lana Bailey, 1.
The state appointed Ron Evans, a well-known Kansas capital murder defense attorney to his case. Through his attorney, Flack waived his right to a preliminary hearing within 15 days. The judge ordered Flack back in court on July 8 at 1:15 p.m for a status hearing, at which time a preliminary hearing date may be set.
Several friends and family members of the victims were in court, too.
CONTINUING COVERAGE: Four slain in Ottawa
"The baby didn't deserve that," said Caylah Decock, a friend of Kaylie's. "She could not have told on him. She couldn't have pointed him out."
Andrew Helm, a friend of Flack's was also there and is still stunned that his friend is accused of killing four people.
"He was a good guy. He seemed like it. I don't know what turned him into doing something like this," said Helm.
Helm read FOX 4 a text message that he says Flack sent on May 2 about victim Andrew Stout, who police believe was killed sometime between April 28 and May 6.
The message said, "I talked to him yesterday. He finally got everybody out of his house. He's probably just laying low. You can't blame him."
Kyle Flack has been charged with multiple counts, including capital murder, first degree murder, rape and criminal possession of a firearm. Investigators revealed last week that evidence shows Kaylie Bailey was raped before she was killed. Authorities still are not commenting on a motive for the crimes, saying the information could jeopardize the investigation.
Meanwhile, Flack has an extensive criminal history dating back more than a decade. He served time after he was convicted of a 2005 attempted murder.
The victim's sister, Stephanie Ingram, said she was inside the home when Flack unloaded a gun at her brother. When she heard the shots, she came out back and saw her brother, Steve, lying on the ground.
Flack had been working for Steve as a handyman, doing odd jobs. Ingram said Steve fired Flack, saying he had a bad attitude and didn't want to work. That's when Flack came to the home and began shooting.
"They removed five bullets and one had went into his lung and he had bullet fragments in his lungs."
Steve survived the shooting but died a year-and-a-half ago from lung cancer. Flack was convicted of attempted murder for the shooting. He was supposed to spend five years in prison, but only ended up serving a little more than two years.
Attorney Ron Evans
Flack's attorney, Ron Evans is in the midst of another high-profile Kansas case in which his client, Marquis Marshall, is charged with killing two people at a Dollar General store in Wichita in November. The victims were a 79-year-old man in the store to buy candy for his grandkids and a 22-year-old clerk who had moved to Wichita from Lee's Summit.
Related: Lee's Summit man killed in Wichita Dollar General slayings
According to the Wichita Eagle, Marquis Marshall requested a new attorney, claiming Evans spent very little time with him. The Eagle reported the judge discouraged Marshall from seeking a new attorney.
"There are only a few attorneys in the state of Kansas who are qualified in what are called capital murder cases, and Mr. Evans is one of them," Judge Wilbert said. "Frankly Mr. Evans is one of the best in the state."
Weekend discovery leads to remains of child
Saturday night, the remains of Lana Bailey was found in rural Osage County. Earlier Saturday evening, a deputy found some items related to the homicide investigation in the same area, although law enforcement officials won't say what was found.
Despite Lana's body being found in bordering Osage County, police said they believe Lana was killed at the farm located on the Georgia Road in Franklin County. It's the same place where her mother Kaylie Bailey, Andrew Stout and Steven White were also murdered.
"It means a lot to the family. They need to have this, so they can move on," Richards said. "They can't deal with something as long as they don't have any type of closure.  This helps bring closer to them.