This is an archived article and the information in the article may be outdated. Please look at the time stamp on the story to see when it was last updated.
INDEPENDENCE, Mo. -- The homeowner injured in the violent home invasion Wednesday in which an Independence police officer was shot, is grateful to Officer Tom Wagstaff for coming to help him. He believes if police hadn't responded, he'd be dead.
"I would tell him how sorry I am, and that our prayers and thoughts are with him and to get well," said Don Fowler.
Fowler, 82, says the only reason he's able to do an interview with FOX 4, is because the heroes in blue came to his home Wednesday to save him.
"Physically I will get well, emotionally it is going to take some time because it happened right here in this house, right by where we are taking this interview," said Don Fowler. "I firmly believe that they saved my life and that they intervened and stopped what was going on."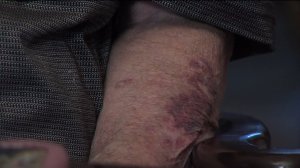 Police say Joseph E. Wyatt, 28, and Ronar Santiago-Torres, 27, went to Fowler's home to rob Fowler, restrained him and held him at gunpoint. The men repeatedly struck him, and the wounds are still visible on his face and arms.
Thankfully, Fowler's friend was watching his home's surveillance cameras at the time. She saw two men with stocking caps and bandannas covering their faces, beating Don Fowler. She dialed 911 in a panic, telling the dispatcher to get police to his home.
When the men heard police sirens they fled in Fowler's car. When they crashed through the garage door, Wagstaff was outside, and was injured by gunfire. According to a police source, he was shot in the head.
Fowler says when he heard police sirens outside his home, at first he didn't really think they were coming to help him.
"I don't believe that's for me, but it was," he said. "And that's when I was very thankful that this was coming to a close maybe."
Jackson County prosecutors filed charges against four men.
Wyatt and Santiago-Torres are both charged with first-degree robbery,  armed criminal action, first-degree burglary and kidnapping. Prosecutors have requested a bond of $500,000 cash for each. Prosecutors added assault against a law enforcement charges on Thursday afternoon against the suspects.
Prosecutors also charged two more men in this case. James McChan, 56, and Donald Nussbaum, 51, face first degree robbery, armed criminal action, first degree burglary and kidnapping charges for allegedly acting as accomplices. They'll be held on $500,000 bonds as well.
Donald Nussbaum is the son of the friend of Don Fowler's, whom we mentioned above, who called police after seeing what was happening on his surveillance cameras.(Read her comments about the crime and her son here.) She did not want to be identified. She says she has been estranged from Nussbaum for years, but that he would sometimes do yard work for Fowler.
"I am here and I am glad to be here but the real concerns is with the officer and with his family," said Fowler.
Expect continuing coverage on fox4kc.com. If you're a Facebook user, check our Facebook page for live reports there as well. Download the app for news in between FOX 4 newscasts.
As of Friday, Officer Wagstaff was still in critical condition. Officers from around the metro gathered Wednesday night to pray for his recovery. Officer Wagstaff is married with two boys.
A fund has been set up for Officer Wagstaff. If you would like to help his family, make out checks to 'Answering the Call.'
Send them to:
Independence Police Department
223 N. Memorial Drive
Independence, MO 64050
Attention: Officer L Virgil
Or deliver checks or cash to:
Greater KC Public Safety Credit Union
19341 East US 40 Highway.
The fund is a 501c first-responder non-profit fund. Every donation dollar will go directly to the family.