This is an archived article and the information in the article may be outdated. Please look at the time stamp on the story to see when it was last updated.
KANSAS CITY, Mo. — With tears in his eyes, the man who ran toward the bullets at an Olathe sports bar while others ran away relayed a sincere thank you to the men and women who helped save his life the night he and two other men were shot.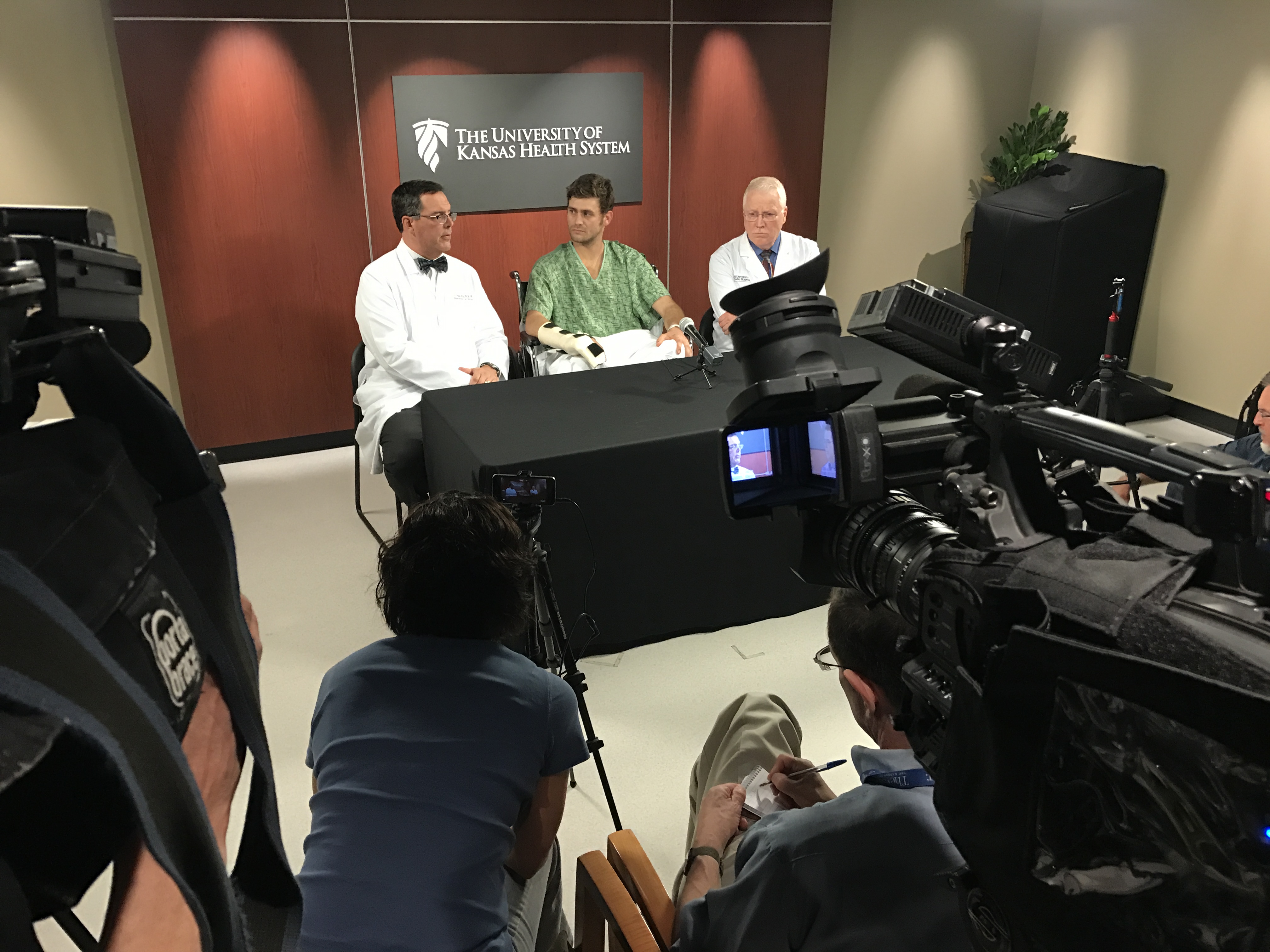 Ian Grillot and Justin Green, the surgeon who cared for Ian when he arrived at the hospital, spoke with media Tuesday at The University of Kansas Hospital. They were joined by Lee Norman,the Chief Medical Officer at The University of Kansas Health System.
Dr. Green says Grillot was within a centimeter of death in regards to how close the bullet came to taking Grillot's life.
"Real close… a centimeter, ten millimeters, as close as you can get," Dr. Green said.
Grillot was shot when he tried to stop a gunman who opened fire inside Austins Bar and Grill Wednesday night.The bullet went through his hand and into his chest, where the bullet remains. The 24-year-old's injuries are described as serious, but he is expected to physically recover.
Dr. Green referred to the area where Grillot was shot in the chest as the highest priced real estate a person has in their body other than their brain.
Since the shooting, Grillot has been able to meet with a few of the people who helped him the night of the shooting.
"It was amazing to be able to actually thank them for saving my life because without them I probably wouldn't be here," Grillot said when asked to describe the meeting.
Many have reached out to Grillot and referred to him as a hero since the shooting, but he still believes he was "just doing the right thing."
"I'm just very, very grateful for the terrible situation that it was that such positivity is coming from this," Grillot said.
The young man says he was just at Austins watching a basketball game and catching up with friends when there was a conflict between two men and the gunman.
"This whole racial divide, and ethnic war that we have going on, hopefully that can kind of be put to rest because it's been going on for far too long," Grillot said. "We're all humans. There's no reason to act the way that we have been."
Grillot said he personally did not hear words from Adam Purinton, who was charged with one count of first degree murder and two counts of attempted murder in connection to the shooting, to definitely prove that he allegedly targeted Srinivas Kuchibhotla and Alok Madasani because of their race, but he said Purinton's alleged actions leave little doubt.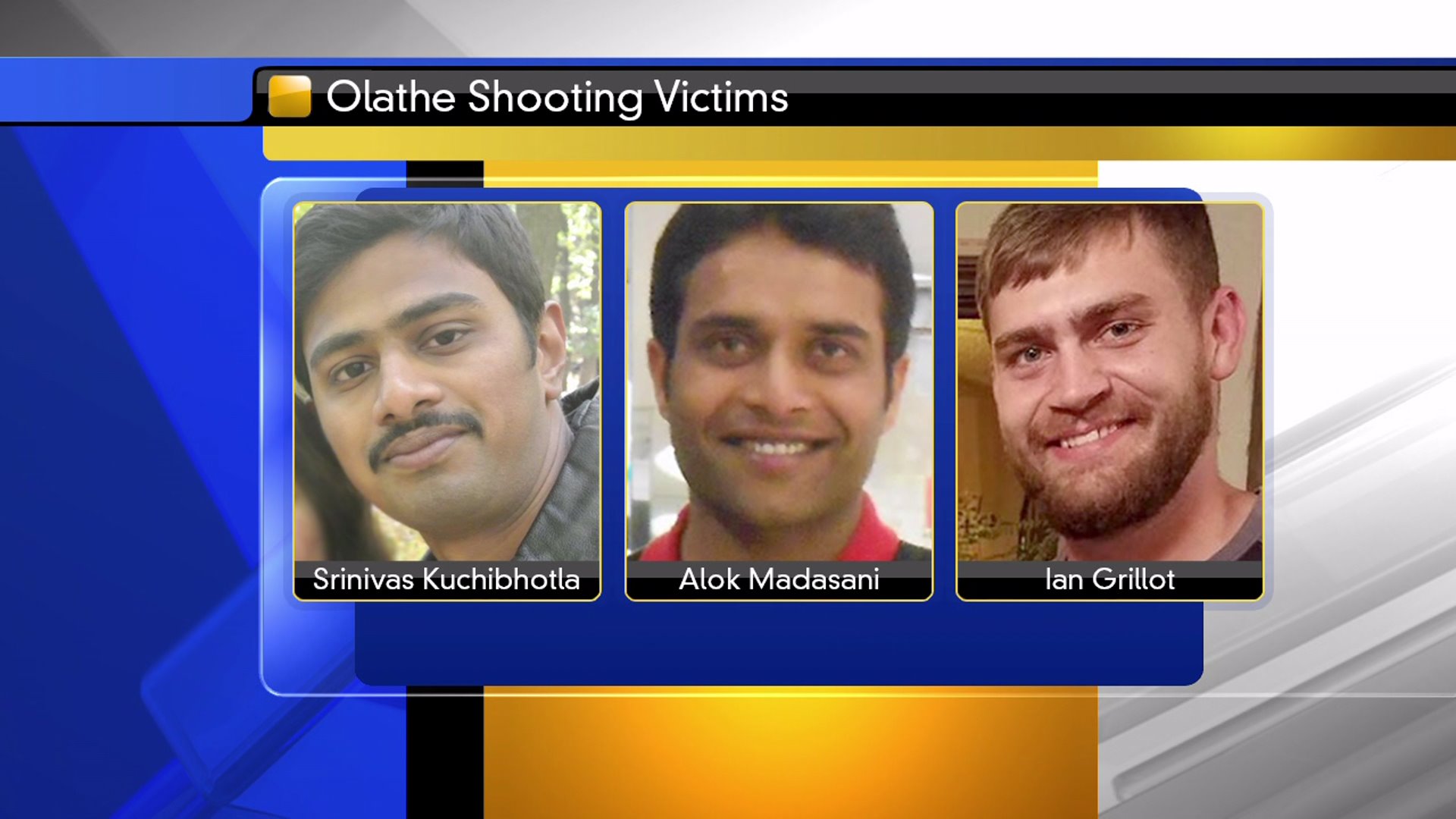 "The gentleman did specifically come back in, and he didn't go anywhere else when he came back with a gun that fateful Wednesday night. He went directly towards those men," Grillot recalled. "It sounds pretty blatantly obvious what it was."
He also noted when he escorted Purinton out of the bar before the shooting, Purinton allegedly made comments revealing that Srinivas and Alok's race was an issue for him.
"'You're gonna stick up for them, and not me?'" Grillot recalled Purinton allegedly saying. "And that's when I kind of knew what he was insinuating."
When asked directly if he thinks the act should be prosecuted as a hate crime, Grillot decided to leave the politics of the situation alone.
"It's not really something I want to get in and talk about, politics, kind of where that comment was going," he said. "Politics are going to be here even after I'm moving on and this is all past. It's always going to be around, and it's never going to change with the way things are."
Grillot did note that he would like to see Pres. Trump make a statement on the incident, given that the president has so far been silent on what has become national and international news.
"It would be nice for him to give some closure because I know people from all around the world are waiting for something, some kind of statement. He's made statements on the Oscars and this that and the other, but not this, that took lives? And that is a little upsetting to see that, but I also I do understand this is a very sensitive subject, so hopefully he's just trying to figure out the right thing to say and the right ways to word it."
Grillot is not the only person to note the president's silence on the incident.
Kevin Yoder, the Republican congressman who represents Olathe in the House, said in a tweet that he has contacted the White House and urged Trump to "condemn hateful acts" like the shooting, and released a statement.
As the world prepares to watch President Trump tonight at the joint session of Congress, I've been in contact with the White House regarding the senseless tragedy last week in Olathe that claimed the life of Srinivas Kuchibhotla and injured Alok Madasani and Ian Grillot. I've been clear that the President must use this amazing platform to condemn this hateful act in no uncertain terms and send a powerful message that no American should be fearful in their own community. Diverse political and religious views are what make our country great, and I look forward to him utilizing this opportunity tonight.
Hillary Clinton also called on the president to condemn the shooting.
"With threats & hate crimes on rise, we shouldn't have to tell @POTUS to do his part. He must step up & speak out," Clinton tweeted.
FBI investigating Austins Bar and Grill shooting as a hate crime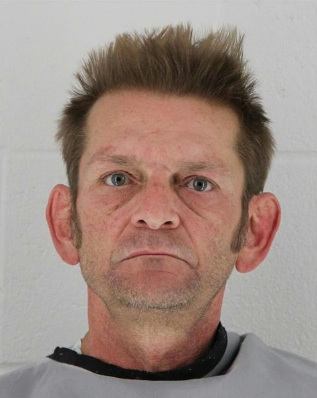 Grillot recalled about 20 or 30 minutes passing between the time he escorted Purinton out of the bar and grill and the time he allegedly returned with a gun.
"He had a scarf or something over his head trying to conceal his identity, but it's pretty obvious when you're harassing and assaulting guys verbally and then you directly go back to them when you return with bad intentions, it's kind of obvious on who he was," Grillot said.
Grillot said he initially hid under a table when he heard shots ring out, but then he feared the gunman might be heading to a back door or be going somewhere else to cause more harm.
"I just couldn't let that happen, morally with my personal stance in life, I couldn't allow that,"Grillot said. "So that's why I did what I did. Unfortunately, I ended up taking a round as well."
Grillot spoke in a bit of a weak, raspy voice, which doctors attributed to the trauma of the gunshot.
The doctor sitting next to Ian said "it's hard to say whether or not his vocal function will normalize over time."
The 24-year-old said he would not let the tragic events that unfolded that night keep him from returning to Austins. He referred to the bar and grill as the greatest place he's ever been to.
"Kansas is not a hateful place; Olathe is not a hateful place. It's a very passionate place. We love everybody here, for the most part," Grillot said. "Life is too short to have hate."
When asked if there's one thing he wants everyone to take away from this shooting he said:
"Stop the fighting. Love one another. Life is too short for hate and anger. There's no reason for it. Yeah, you might get a little mad at your neighbor, but I bet you a grilling session of some hamburgers or hotdogs and a cold beer on ought to solve that. There's just too much hate in this world. There's no reason for it. Life is too short. Perfect example, I almost lost mine Wednesday night. There's not reason for all the hate. If you don't like someone, don't talk to them. Simple as that."
Friends and family grieve death of Srinivas Kuchibotla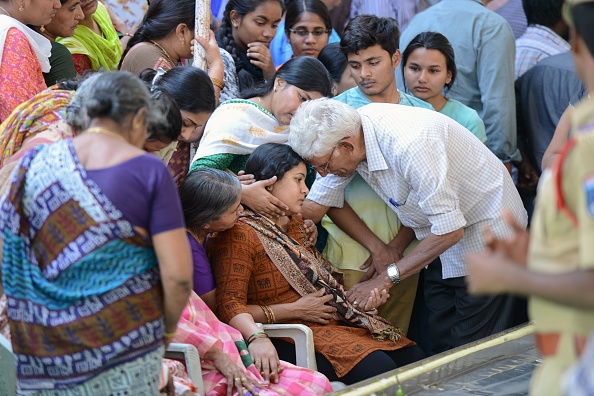 Tears rolled down the cheeks of Srinivas Kuchibhotla's parents, Madhusudhan Rao and Vardhini, as his body was cremated Tuesday in Hyderabad, the capital of Telangana state. Hundreds of grieving family and friends gathered to mourn the loss of the 32-year-old.
GoFundMe pages have been set up for each of the shooting victims:
Srinivas Kuchibhotla and Alok Madasani
FOX 4 is committed to thorough coverage of this story, which is being reported nationwide. Put the FOX 4 app on your phone and follow our Facebook page for continuing coverage and developments.