This is an archived article and the information in the article may be outdated. Please look at the time stamp on the story to see when it was last updated.
HARRISONVILLE, Mo. — School starts Thursday morning in for public school students in Cass County.
As with most school districts, teachers and staffers in Harrisonville got their pre-school year pep talk, and their inspiration comes from a man who knows what it's like to face life's challenges.
A word of encouragement can lead to inspiration. Kyle Maynard doesn't need pretend strength. His life is built on the real thing.
The 30-year-old from Georgia competed in the national high school wrestling championships in 2004, even though he was born without arms and legs. Doctors can't explain why that happened.
"If we want something bad enough, we can find a way to make it happen," Maynard told FOX 4 News.
That's what he shares with groups, like Harrisonville Public School teachers. In 2012, Maynard became the first man to crawl to the summit of Mt. Kilimanjaro, proving his physical limitations don't own him.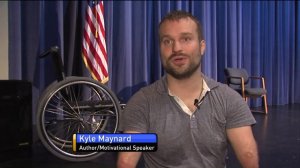 "Part of it was to go and prove other people wrong. People would say, 'A guy with no arms and legs could never win a match in wrestling.' I wanted to go and prove that I can," Maynard said.
No one made excuses for Kyle as a wrestler either. He says he lost his first 35 high school matches before improving, and eventually advancing to the Georgia State Wrestling Tournament, where he lost in his weight class' finals. Teachers in Harrisonville say they heard him loud and clear.
"His smile is infectious. His smile affirmed that what we're doing is what we're supposed to be doing and why we're in this industry," Nicole Tews, teacher, said.
"If we use our excuses, they're going to turn into crutches, and they're going to hold us back from seeing the success we could otherwise achieve," Brian Thayer, teacher, said.
That's the message Kyle wants teachers to use as fuel in their tanks, leaving excuses behind.
"How different could life be if I were to really take those things on?" Maynard asked, rhetorically.
It's a loving lesson for teachers, as they prepare for a year-long challenge.
Maynard and his message have also appeared on national television, including appearances on "Oprah" and "20/20."