This is an archived article and the information in the article may be outdated. Please look at the time stamp on the story to see when it was last updated.
KANSAS CITY, Mo. — Disturbing cell phone video shows the moments after a deadly, multi-car crash on Sunday. Tuesday night, angry family and friends of the teenager killed responded to the video.
"He didn't approach any vehicles, not my dad's, not the 3-year-old baby to see if they were okay," Evelyn Raudales, a family member of two of the crash victims said.
Relatives of 16-year-old Samantha Raudales say the video posted on Facebook shows that the man accused of causing the crash never tried to help the victims. Instead, the teen's grieving sisters say the suspect's top priority was picking up the pieces from his damaged car.
A man declined to talk on camera, but did share the 12-minute video with FOX 4 that he posted to Facebook. The teen's sisters saw it and were immediately outraged. Samantha Raudales turned 16 one day before the crash.
"It makes me mad because he could've helped," sister Laurie Ordonez said.
Relatives say Sunday afternoon Edwin Raudales was driving Samantha to a surprise birthday party when police say the man plowed his black Dodge pickup into the back of the father and daughter's vehicle.
Samantha died instantly. Relatives say her father suffered a brain injury and is now in a coma. A 3-year-old girl who was critically hurt also died.
"It's clearly on the video that he did not care," Ordonez said.
Samantha's sisters say after the deadly wreck, the suspect can be seen in the cell phone video walking around his banged-up truck, repeatedly picking up pieces from his vehicle, and that's it.
"He was just worried about his truck. It's annoying," Raudales said.
"If he cared, he would have helped. It's like you're selfish. You don't care about nobody else but yourself and it makes me furious because now our parents are devastated, family devastated, and we can't bring back our sister or a 3-year-old," Ordonez said.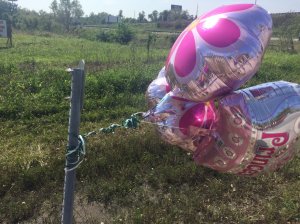 After handcuffing the suspect at the scene, police say they took the man into custody, took his statement and blood samples. Right now, he's out of jail. Once the results of his toxicology tests are back, prosecutors will then decide whether to charge him.
"He has to be charged. He destroyed two families," Raudales said.
"Justice needs to be made for sure. For our sister and the 3-year-old," Ordonez said.
Edwin Raudales remains in critical condition. His daughter's funeral has not been scheduled at this time.