This is an archived article and the information in the article may be outdated. Please look at the time stamp on the story to see when it was last updated.
KANSAS CITY, Mo. — Dozens of customers come into KC Smoke & Vape in Westport every day. Although most browse the store, buy products then leave, others come in looking for a five-finger discount.
"We have shoplifting on an ongoing basis. That's why we have so many cameras. We end up having to prosecute someone once a month for shoplifting," Operations Manager Jason Ballou said.
But earlier this month, the business experienced a different kind of theft.
"We had someone come in who appeared to be a customer. He walked in, came over here to our vape area and noticed that we have a donation container for the Kansas City Zoo," Ballou said.
Surveillance video shows a man touch some items on a front counter, then take the donation jar, stuffing cash into his bag while walking down the aisle. Watch the footage in the video player above.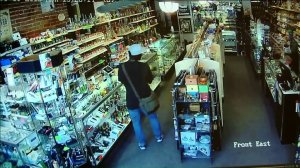 "The store manager on duty came over and said, 'Hey, that's not yours. You can't have it.' He basically shoves by her, says 'I don't have anything,' gets up to the door, shoves another person and actually assaults her, pushes her down and knocks down a bunch of stuff on his way out the door and then flees down the street," Ballou explained.
Store owners think there was between $20 and $25 in the jar. The suspected shoplifter took about $15 and left the rest.
"Someone coming in and stealing a donation container, that's pretty terrible. It takes a horrible person to do that. In addition, assaulting someone, assaulting a woman on your way out the door for $15 — again, it takes a really terrible person to do something like that," Ballou said.
The donation jar has been replaced. Shop owners said they won't let this senseless act stop them from giving back to the community.
"We've been donating our [tobacco] sampling money to charity for six years now, and this is the first time it's ever happened. So we're going to keep doing it, keep helping them out as much as we can," Ballou said.
Anyone with information about the person seen in the video should call the TIPS Hotline at 816-474-TIPS.