This is an archived article and the information in the article may be outdated. Please look at the time stamp on the story to see when it was last updated.
KANSAS CITY, Mo. -- A suspected arsonist targeting cars in the Northland has been arrested, charged in Clay County with several counts of  'knowingly burning or exploding.'
Steven Broadway, 26, of Kansas City, is being held on $75,000 bond.
According to court documents, Broadway admitted to starting 13 fires recently, including one where a homeowner captured surveillance video of his 2016 Toyota Highlander being set on fire.
In each case, the MO is the same, as the arsonist sets a bag full of trash on the windshield and uses a lighter to set a fire on the hood of the car.
"I'm devastated," Nancy Bean, the latest victim, told FOX 4's Katie Banks in an interview last week. "It's an old car, obviously, but it`s the only transportation I have and I can't replace it."
Bean has insurance, but she doubts she'll get much for her 1999 Ford Taurus that now has a melted engine, shattered windshield and charred dashboard.
"Horror, pure horror," is how Bean described the aftermath. "Why does somebody do this? I mean, it causes so much grief and so much pain."
Police believe her car fire was the workings of an arsonist, as Bean slept in her apartment on N. Wheeling Avenue just feet away.
"I get up and I look out," she recalled, "[see a] fire truck, they`re out here putting out my car!"
"And then we look inside the car and there`s a big black trash bag in the center of my dashboard! Somebody set this fire!"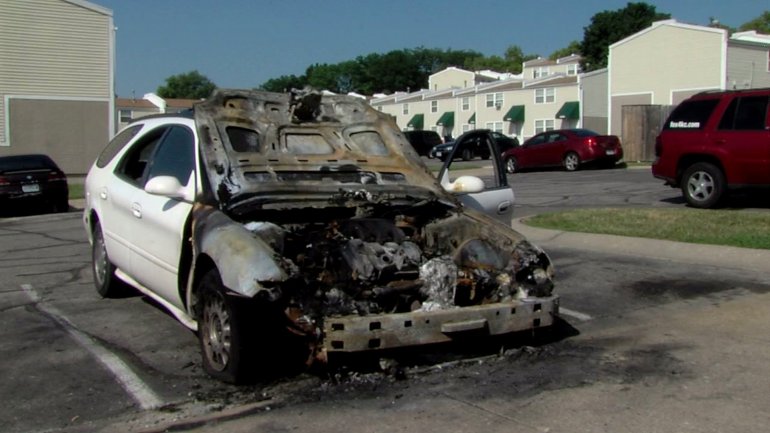 It's the same MO that destroyed a brand new Toyota Highlander two weeks ago on NE Antioch Road.
That time, the crook was caught on camera putting a trash bag on the windshield, laying out pieces of paper, and calmly setting it ablaze with a lighter.
The Toyota owner agreed to talk with FOX 4 but asked we hide his face for safety reasons.
"I'm scared," he admitted. "I think family is lucky, because if it had been two to three minutes more, the car would`ve exploded. The whole house would be done and everybody would've been killed."
Police are now investigating a series of these car arsons that began on July 4 and keep popping up across the Northland.
Two other cases were reported last week at an apartment complex in North Kansas City.
"It`s horrible," Bean said, "and it`s horrible that they have his picture and that we haven`t caught him and that this is still happening."
She's now sending a message to the man responsible.
"We're just normal people, you know?" she said. "We're hard-working. We get up every day. We do our job. We try to make ends meet."
"And then you come in and disrupt our lives in a huge way. This isn't small. The repercussions here are going to keep going on. I'm not going to get over this tomorrow or the next day."
If you want to help Bean and her family buy a new car, you can donate here.