This is an archived article and the information in the article may be outdated. Please look at the time stamp on the story to see when it was last updated.
BLUE SPRINGS, Mo. — Two men are now facing charges Tuesday in the murder of a Blue Springs teenager, according Jackson County prosecutors.
Triston D. Withers, 19, and Daquan M. Tolefree, 20, have both been charged with one count of second-degree murder in the fatal shooting of 18-year-old Jack Price. Withers and Tolefree have also been charged with two counts of armed criminal action and one count of first-degree attempted robbery.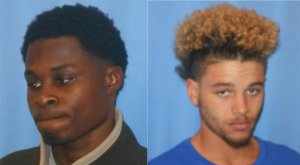 Police responded to the fatal shooting around 9:30 p.m. Friday night at Applegate East Apartments on Vesper Street in Blue Springs where they found Price suffering from gunshot wounds. He was taken to a local hospital where he later died.
Police said Price was shot once in the chest and once in the wrist. There were three others in the home at the time, who were not shot.
Court documents say an anonymous witness told police Withers and Tolefree planned to rob the residence where Price was at for drugs.
According to court documents, one of the residents of the apartment planned to meet with someone to sell drugs. The person heard someone at the door and, thinking it was the person coming to buy drugs, opened it.
Witnesses told police two men in ski masks came into the apartment and pointed a gun at one person's head. That person yelled at Price to get a gun, and one of the two masked men shot Price, police said.
Tolefree told police he was with Withers when Withers allegedly shot Price. The two men then ran out of the apartment, according to police.
A witness identified one of the masked men as Withers. Police found shell casings and a cell phone on the home's back deck, and the phone number came back to Withers, prosecutors said Tuesday.
Price was the victim of Blue Springs' third homicide in the last three months and the second teen to be shot and killed in less than one month in the Jackson County city.
Prosecutors have requested a $150,000 bond for both men.