This is an archived article and the information in the article may be outdated. Please look at the time stamp on the story to see when it was last updated.
KANSAS CITY, Kan. — A KCK man has been charged in Wyandotte County after allegedly stabbing a dog to death Tuesday evening.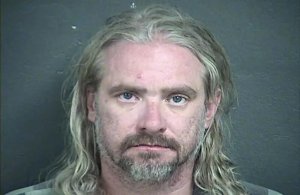 John Caffrey, 43, is charged with felony cruelty to animals – malicious torturing or killing.
KCK Police Chief Terry Zeigler tweeted just after 7 p.m. Tuesday that an Animal Cruelty Detective was on scene with officers in the 2200 block of S. 22nd Street.
A neighbor who called police told FOX4 she saw the man who lived next door take his dog outside with a knife and then heard the dog cry out, and the dog never came back.
"I was sitting on my front porch, and I saw the guy next door come out with his dog on the leash," Carla Atkins said. "And he walked out through the back yard and up into the brush behind his garage. And when he came back, after I heard the dog squall out about four times and then it was quiet. And then he came back, he had a knife in his hand, and the dog wasn't with him. Then we called 9-1-1."
Atkins said police told her there were two other dogs in the home. Authorities removed those animals from the home.
"My initial thought was, 'Oh my gosh, he done killed her,'" Atkins said. "And I just started crying. I don't, I don't condone things like that, and it hurts me really bad."