This is an archived article and the information in the article may be outdated. Please look at the time stamp on the story to see when it was last updated.
INDEPENDENCE, Mo. -- Rape suspect, Bryan K. Raines, 41, appeared before a Jackson County judge Monday morning in Independence, and was read the charges against him: First-degree rape and first-degree sodomy.
According to the probable cause statement, police responded to Brady Park on reports that two subjects were having sex and that one was covered in blood. Two people taking out the trash at a fast-food restaurant noticed the commotion and called police.
Officers found the victim with severe trauma to her face. Before she went unconscious, police say she told them the suspect had beaten and raped her.
Police then searched the area and found the suspect laying down in the grass naked and covered in blood.
He allegedly told police that the woman was a "f***ing homeless retarded (word blacked out in document) and I am a homeless drunk,"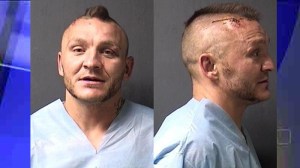 The incident has caused the families who live nearby to question the safety of their neighborhood. The park off of N. Delaware Street was quiet on Sunday night, but Saturday night people who live nearby said it was filled with police cars and had them anxious to find out what happened.
In the neighborhood where kids ride go-carts down sleepy streets and families pass the time on front porches, Brady Park borders a line of homes. It's just a stone's throw away from a sign on a post that reminds strangers police are watching, but the warning sign just wasn't enough.
"There was probably 10 cop cars," mom Michelle Tennison said.
"No more leaving doors unlocked for anything," Tennison said.
It's unclear whether Raines knew his victim, but random or not, it's shattered a sense of security.
"We were pretty scared, shook up for our children, my teenage daughter," Tennison said. "You never know who or what could happen obviously."
That uneasy feeling is shared by families who frequent another park just across the street.
"It concerns me. We`ve never felt unsafe here before so I guess we`re just going to be more cautious and keep our eyes open better," neighbor Andrea Underwood said.
Online records show Raines is a convicted felon who pleaded guilty to a string of crimes, including burglary, theft and drug possession. He was released from jail in June 2012, according to records.
According to Bill Wagner of Word Ministries, Raines was once homeless.
"He came across as a person that had a need," Wagner said.
Wagner told FOX 4 he tried his best to help, but he hasn't seen Raines in more than a year.
"After quite some time, he started moving on," Wagner said.
Raines may have moved on from the ministry, but not away from a life of crime according to police. Raines was released from prison in June of 2012, but now finds himself back behind bars, being held on a $500,000 cash-only bond.