This is an archived article and the information in the article may be outdated. Please look at the time stamp on the story to see when it was last updated.
KANSAS CITY, Mo. — Despite the conviction of the man accused of attack and setting her on fire, more than a year of surgeries, treatments, investigations, and a trial have taken a toll on the mind and body of Katie Ann Blanchard.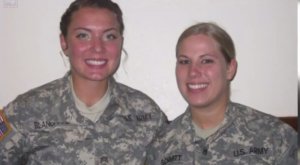 "Hearing guilty does close a chapter in this but I think it's just one part of the many that need to be looked at, that need to be addressed." Blanchard said, "It's simple things like holding my children, it's not the same. You wake up and you're not used to seeing your face and then you see your face and you wonder 'is that me? Is that still me under there?'"
Blanchard, a Lieutenant in the United States Army, was attacked while working a the Munson Army Health Center in Leavenworth in September 2016. The attacker, Clifford Currie, 55, set Blanchard on fire and attacked her with a razor blade and scissors.
"The gasoline was spread on my face, so 100 percent of my face has been burned, the right side of my face is disfigured, my neck, my chest, my back area, and both of my arms and hands. 1st, 2nd, and 3rd degree burns," she said.
Blanchard's Attorney, Will M. Helixon, said this incident should have never happened after Blanchard went to her supervisors multiple times about Currie.
"This provides a small piece of closure for Lt. Blanchard but the real fight, the real battle is ahead of us. And that is making sure that those who ignored the warning signs are held accountable," Helixon said.
Despite the work left ahead to ensure no one else endures what Blanchard did, she wants to enjoy time with her three children and continue her life's work of helping others.
"I really hope that I'll be able to go back to nursing and be able to help other burn victims. With the experience I have, as an RN and then also as a patient myself, really affect change in that way. And really affect change in workplace violence and hopefully being proactive and working with the military to see what better steps we can put in place to protect other soldiers, sailors, marines," she said.
Currie was found guilty of Assault with Intent to Commit Murder. He is facing 20 years in federal prison and will be sentenced in October.